FC Cincinnati Weekly Roundup: 4/23–4/29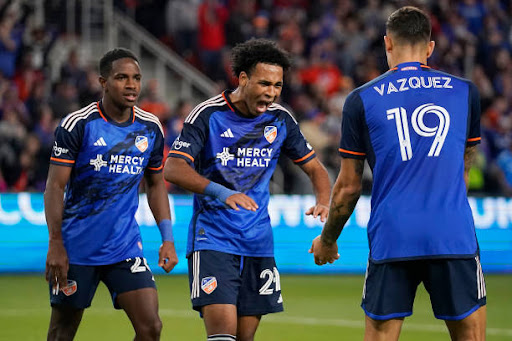 Match Preview: FC Cincinnati vs. New England Revolution: 
FC Cincinnati will travel to New England to play the Revolution on Saturday, the in a match that will determine who gets first place in the Eastern Conference and potentially first in the Supporters Shield. FCC continued their winning streak at home against the Timbers, winning 2-1. Sergio Santos once again had another good game, getting one goal and an assist. Alvaro Barreal also got an assist (3rd on the season), and Brandon Vazquez also got another goal (2nd on the season). New England is also coming off a good run of form so far, losing none of their last six games in the league and currently sitting in first place in the East, tied with FCC on points. New England won 2-1 against Sporting KC in their latest game.
Some things to look out for from the New England Revolution:
The Rev's striker Giacomo Vrioni is coming off a good run currently, getting three goals in the last three games, including both goals in the win over Sporting.
Carles Gil is having another fantastic season for the Revs, having 2 goals and 1 assist so far in 8 games. He is also in the top 10 in the league in chances created with 18 (2.8 chances per game).
The Revolution are known for their strong defense, only conceding more than one goal in a game once this season. The head of that defense is Djordje Petrovic, who averages four saves per game as well as conceding 2.78 fewer goals than expected, ranking third in the league.
Some things to look out for from FC Cincinnati:
Sergio Santos has been having a fantastic season up to date, already with four goals and an assist in only 302 minutes. He is currently on pace to shatter his best season of 2020, where he was tied for 6th in the league in goals with 11 goals. With Brenner only partially participating in team training, there is a good chance we will see another Santos start on Saturday.
Alvaro Barreal has been having a good season so far with Cincinnati. The Argentine currently has 3 assists and is tied for 2nd in chances created, alongside the top 8 in big chances created. The ladder, which includes Luciano Acosta as well, is 4th in the league in big chances created with 5.
FC Cincinnati is currently tied for the most clean sheets in the league this season with five in nine games. The main reason for that is the CB trio of Matt Miazga, Yerson Mosquera, and Nick Haggulund, alongside young goalkeeper Roman Celetano.
Match Review: FC Cincinnati vs. Portland Timbers
FC Cincinnati welcomed the Timbers to Cincinnati, who were coming off a big 4-1 win in the Cascadia rivalry. While FCC went through their first loss of the season, it was a thrashing 5-1 loss vs. St. Louis. In the end, two goals for FCC sent the Timbers packing home with a 2-1 loss.
It was a day full of new looks for the FCC. They came out alongside all of MLS in their respective 2023 'One Planet' kits, which were made from recycled plastic to raise awareness of plastic waste and celebrate Earth Day. FCC also welcomed back Luciano Acosta, who missed last week's thrashing at St. Louis with a shoulder injury. Immediately, you could tell that his presence was missed, creating multiple chances early on. The closest one was a beautiful through ball to Sergio Santos, who instead of passing it to an open Brandon Vazquez decided to take a soft shot, which went right at the keeper.
Santos would later make up for this in the 34th minute, where he would score the opening goal off of a diving header sent in by a gorgeous Brandon Vazquez cross. This was the only score of the half, as other than a few more chances for FCC, nothing noteworthy occurred.
Portland came into the second half on the dominant end, controlling possession well. But they were unable to get past the FCC's stellar defense, and multiple decision errors on their part did not help either. The FCC was able to get the pressure back up and start creating multiple chances again. In the 56th minute, when a run by Acosta resulted in the ball bouncing wildly in the Timbers box, Vazquez was able to make it 2-0.
The Timbers were able to respond with a goal of their own when Santiago Moreno delivered a cross to Dairon Asprilla, bringing the score back to 2-1. The last 30-plus minutes saw the FCC focus on seeing the match out. Minus a few nervy moments and a pinch of hard tackles, FCC was able to come away with all three points for the fifth time in five home matches.
Other News
FCC makes it to the next round of the US Open: FCC started their US Open Cup run on Wednesday when they welcomed USL side Louisville City FC to Cincinnati. The team consisted of all backups, including debuts for Joey Akpunonu, Isaiah Foster, and 15-year-old Stiven Jimenez. The game was close for the entire game, even looking like Louisville might sneak out an upset on multiple occasions, but an 85th-minute goal by Arquimides Ordonez was all that FCC needed to get the win. FCC will play NYCFC in the next round of the US Open Cup, who got in on a bye.
Brenner Leaves in Summer: After months of European teams circling FCC star Brenner, Udinese have finally become the team to swoop in and pick up the player. The deal consists of a $11 million base fee with add-ons and a sell-on clause included in the deal as well. Brenner has had teams like Nottingham Forest and PSV interested in him in the past, with Nottingham sending an offer for Brenner in January that was later rejected.
Brenner joined on a $13 million deal from Brazilian side San Paulo in the 2021 winter window. Since then, he has gotten 27 goals and 7 assists for FCC, including a star-studded 2022 season where he got 18 goals and 6 assists in 29 games.
Injury Report:
Santiago Arias: The new signing has been dealing with injuries this season, only playing in six out of the first nine games this season, with only three starts. After picking up a thigh injury vs. St. Louis, Arias has missed the Portland game, and he has yet to train with the senior team since it looks like he will also miss the New England game.