Bengals @ Ravens Preview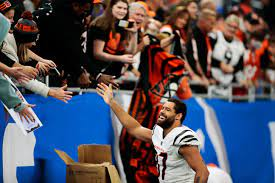 The Cincinnati Bengals bounced back this Sunday in Detroit after defeating the Lions on the road 34-11. The scoreboard shows that the Lions put up 11 points on the Bengals, but if you watched that game, the real final score should have been 27-0. Joe Mixon looked dominant up until he was taken out of the game late in the fourth quarter, Joe burrow had only 1 (tipped) interception and 273 yards with 3 touchdowns, and Ja'Marr racked up 97 yards in 4 receptions. The Bengals look like they are on a roll after that game as they head into their second of a 3 game road trip as they take on the 5-1 Baltimore Ravens. Baltimore currently sits on top of the AFC North, only 1 game over the second-place Bengals (4-2). This game is looking like a very challenging game for the Bengals, even though Baltimore is riddled with injuries at the moment. However, it is an important chance for the Bengals to move to 5-2 and tie for first place in the AFC North. As of now, the Bengals are looking like they could potentially make it to the wild card game and if you want to be a playoff team, you have to beat playoff teams like this. Here are the keys to a Cincinnati victory this Sunday in Baltimore.
Tackle, Tackle, Tackle!
This Cincinnati defense is so far improved from last year, but one thing has remained consistent for the last several seasons and that is a severe lack of tackling. Against a mobile quarterback like Lamar Jackson, the team has to be able to bring him down. Without Jackson's ability to extend the play, he is just an average, if not an arguably slightly below-average quarterback. Also, coming into this game the Bengals should be expecting that Lamar is going to hurt them, and they have to be able to tackle other ball carriers so that if Lamar does get away, it wouldn't hurt as bad.
Keep The Defense Off The Field
Sticking with the theme of keeping Lamar off the field, the offense needs to stay dominant while also running the clock consistently. Lamar can't be a threat if he can't play, simple as that. I think the magic number for this game is 27 points for the Bengals to stay competitive, but Cincinnati will probably need more to secure a victory against this Baltimore offense.
Injuries
Last weekend in Detroit, Jackson Carman learned to be careful when it comes to mixing Mom's Spaghetti with being an NFL offensive lineman. He left that game with an "illness" and I would guess he will be back against the Ravens. As for Mixon, he has come off of an injury against Jacksonville strong these last 2 weeks. Overall, this has to be some sort of record season for the Bengals when it comes to injury. Typically by this point in this season, the team is already decimated.
Predictions
I'm sad to say that this is the first time I will be picking against the Bengals. The Ravens offense is killing each team and our defense is like oil and water. I think it will be fairly competitive, but I don't see Cincinnati pulling it off. I'm going to say Baltimore pulls off a 41-30 victory this Sunday.