"The Perfect Storm" – Coach Bolden Arrives at West
Coach Bolden Comes to Lakota West's Football Program
It turned out to be "the perfect storm." Tom Bolden, former head coach of Colerain High School, left his job of 17 years to take charge of the struggling Lakota West Football team, hoping to bring a successful season to the Firebirds.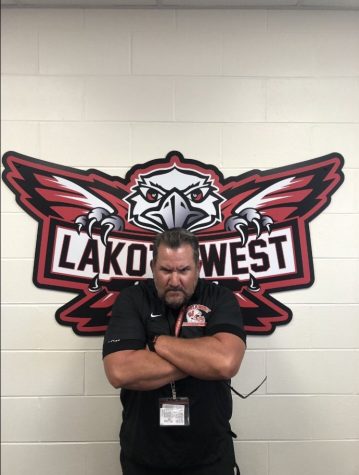 The big question on everyone's mind is this – How did Lakota West get the state-runner-up coach to leave his job at Colerain? It all began on December 3rd, when West's athletic director Scott Kaufman and Principal Elgin Card first contacted Bolden. After West's fall season, four wins and six losses, the Firebirds were looking for some "new blood and a new voice," Card explained, and  their number one choice was Tom Bolden.
After a discussion with Kaufman and Card, Bolden made the decision to leave Colerain and take on a new challenge at Lakota West.  It was shocking news to hear that Bolden was leaving his successful Colerain team but Bolden claims that he saw a "new opportunity" and was intrigued to be "out of [his] comfort zone." Principal Elgin Card said it was "a perfect storm." Two additional important factors were that Bolden's older son had just graduated from Colerain High School, and his younger was about to enter the ninth grade, making the timing perfect for a switch.
Of course, the buzz on people's tongues is often about money. When asked about the impact of salary on bringing Bolden to Lakota West, Principal Card smiled and stated, "it didn't hurt." But for Bolden, the salary wasn't an issue. He said, "I don't coach or teach for the money."
A successful football program is always thrilling, and the excitement is all over the halls of Lakota West."Students are now fired up on Friday nights," according to Card. Bolden is bringing "championship mentality" and not just to his players. Card loves to see the respect and work ethic, of not only the players, but the students Bolden has affected too.
As for Bolden himself, he is inspired by the well-rounded atmosphere for all of the sports here at Lakota West. He wants to continue bringing leadership and positive influence to all students. Also, the coaching staff is not just interested in wins;  overall they want to make the boys "good sons, brothers, and eventually great husbands and fathers." 
With Lakota West's new coach and new prospects on the future, Card reminds the student body to "Keep coming out, cheering like crazy, and have fun."