Earthquakes in Syria and Turkey Devastate Millions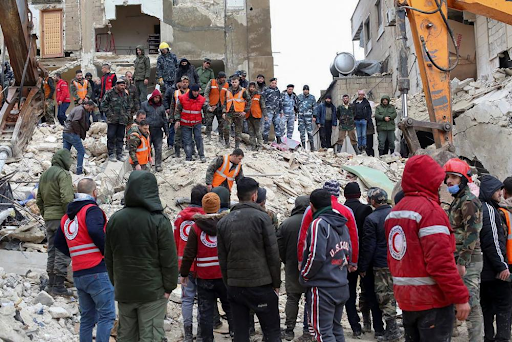 On February 6, 2023, one of the deadliest earthquakes in recent history hit Turkey and Syria, with a magnitude of 7.8. Millions have been displaced and injured, and hundreds of thousands have been killed by collapsed buildings and fires. As if one 7.8 earthquake wasn't enough, on the morning of February 21, another 6.3 magnitude earthquake hit, with 6 dead so far. 
Casualties
As one of the deadliest natural disasters in the Middle East recently, hundreds of thousands of people have been injured and killed. 
Over 45,000 people have been killed and a million have been injured. More than 20 million people have also been displaced and had to travel to other countries for safety. 
In addition to that, Israel hit Syria with bombs mere hours after the second earthquake, adding more deaths to the count. 
A family of seven died tragically in a burning building after being displaced from the earthquake, the children aged between four and thirteen years old. Many other heartbreaking deaths have been caused by the earthquake– parents and grandparents have to bury their young and some families have been separated due to displacement. 
What can you do?
As a natural disaster, there's not much we can do to stop another earthquake from occurring, however, we can be there for the affected oceans away by donating
old jackets and clothes. Many have been giving out bikinis and shorts, clothes needed by countries so close to the equator. On the contrary, Turkey can be the coldest country in the Middle East during the wintertime. Since many citizens face homelessness because of the earthquake's damage, warm clothes, blankets, and lots of food are needed.
Moreso, donating money to rebuild homes and buildings would help bring the country back to prosperity. SAMS is a well-known and reliable foundation that helps fund Syria through many past crises. Also, Forbes has an article with links and references on ways you can help those in need.