Police Beat: Third Edition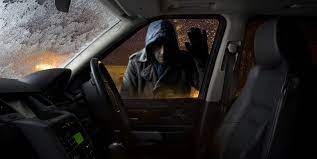 Like any other month, this one was crazy, as a large amount of crime has been going on in and around Butler County. A 3-year-old stabbed by their neighbor, a man was shot to death and left to die in his own driveway, two people died in a fatal crash on State Route 4 in Fairfield Township by a Butler Tech Campus, and the increase of car break-ins has been a problem in West Chester and Liberty Township. 
A woman has been charged with Felonious Assault in connection with a stabbing of a young boy. At around 8:44 am on March 4th, 2021, Xiaoyan Zhu of Deerfield Township stabbed her  3-year-old neighbor in the neck and back with a ceramic knife. Zhu's teenage daughter told a Mason City school teacher, via a virtual online class, that her mom stabbed someone. The teacher later called 911 and reported the incident. The officers responded to the scene to find the 3-year-old stabbed. Authorities couldn't find a motive according to WLWT. Zhu is currently undergoing a mental health evaluation. 
Two people were killed in a crash in Fairfield Township by Butler Tech's D. Russel Lee's campus. Terri Alcorn, 67-years-old, of Cincinnati, was driving a 2003 Toyota Corolla which was traveling southbound on Ohio 4 (Hamilton-Middletown Road). Alcorn's car later went left of center and hit a 2002 Toyota Sienna which was driven by Janice King, 65, of Monroe. First responders were dispatched to the crash at 9:56 pm. King was airlifted to the University's Hospital in Cincinnati but unfortunately succumbed to her injuries. Alcorn was confirmed dead at the scene, according to WCPO.
Car break-ins have been at an all-time high in the recent month around West Chester and Liberty Township. This is mainly due to cars being left unlocked and/or valuables are left in plain sight. This is a reminder to not leave any valuables that may lure thieves to your car. Check as many times as you can to make sure your vehicle is locked. If you can see it, they could take it. So please, please, please, do not leave any valuables in your vehicles, and remember to LOCK YOUR CARS.