Athlete Spotlight: Zach Beneteau
"The end of the year meets have really driven me; I really enjoy running… it's just what I do."
Zach Beneteau, the top varsity runner for Lakota West, has very high aspirations for the end of his junior year of cross country. With two of the biggest meets coming up, Regionals and State, Zach has his mind set on one goal: "The goal is state, finishing as high as possible at that meet," Beneteau said, "A lot of the work has already been done, I'm just trying to mentally prepare and realize that we can hang with any team in the region, if not the state." This determination is what separates him from other runners and is a factor for his early success this season.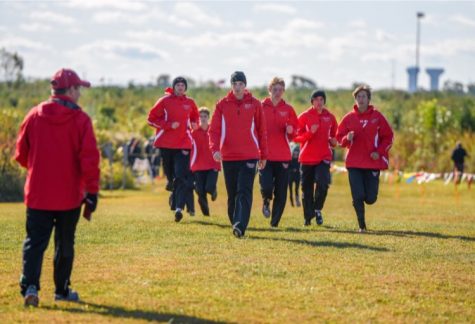 Beneteau has had two first and two second place finishes. His most recent runner-up finish occurred at GMCs; he came in with a blazing time of 15:41.8 for a 3.1 mile race. For those not familiar with racing, Beneteau's average pace for a mile is 5 minutes – a nearly impossible task for many to reach just for a single mile run.
Although many only see the highs of cross country running, there are many lows as well that must be fought throughout each season. What separates a good runner from a great runner is how they overcome adversity. One of Zach's all time favorite quotes comes from the great British politician, Winston Churchill: "Success consists of going from failure to failure without loss of enthusiasm." This quote "helps [him] take every race into perspective and realize that a bad race might actually be preparing me for a great race in the near future, because of that one race I can't get discouraged."
His status as a top GMC runner begs the question — where will running take him in the future?
"Going into next year, focusing on finishing as high as I can at the state meet and any other large meets I attend, also lowering my PRs (personal records) more, and then hopefully running in college." Beneteau said, "I think it would be really cool to run at a couple higher D1 schools, like Georgetown or Michigan."
Zach Beneteau is a great role model who lightens the mood no matter the situation. When asked what makes him a great leader, he received only positive words. Senior teammate Prabhjort Singh remarked that "he is a very great teammate of mine, who always brings excitement and laughter to the team during runs. I enjoy hanging out with him even though he brags about his Mario Kart skills." Another teammate, sophomore Mason Turner, adds, "Zach showed everyone on the team what true dedication is. Speaking as an underclassman, he is a role model for all the new high school and even junior high runners."
In school, he is as impressive as he is on the course, ranking in the top 10 in his class with a GPA of 4.67. Mr. Meyer, Zach's Honors Anatomy teacher, spoke very highly of him, but jokingly said, "Does he talk much at cross country? Because in my class he is quiet." However, he added that "his intelligence show[s] through his work. His handwriting is atrocious but that doesn't take anything away from how smart and hardworking he is. Zach is a pleasure to have in class." His motivation in running directly correlates to his school work, showing what a great student he is to have in class. Achieving whatever he puts his mind to, Zachary Beneteau is not just an athlete, but the definition of a phenomenal student athlete.