Athlete Spotlight: Four Sport Athlete Anna Wells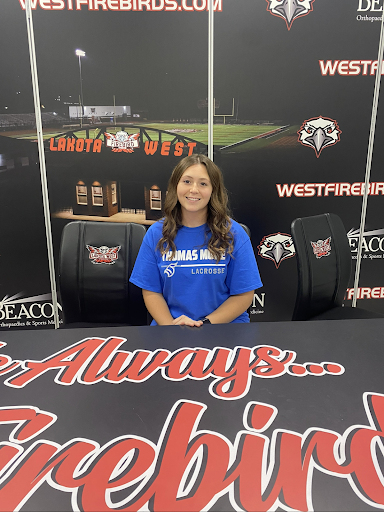 Anna Wells is a senior at Lakota West and she definitely puts the "athlete" in student athlete. She is committed to Thomas More University to play Lacrosse. Not only does she play lacrosse in the spring for West and in the summer for Velocity, but her "off season" is never an off season. 
Throughout Anna's four years of high school she has accomplished a lot. She has played basketball and lacrosse all four years, as well as ran cross country the fall season of her freshman and sophomore year and played goalie for the Lakota West girls soccer team in the fall of 2022, her senior year. Anna says her greatest accomplishment is "committing to Thomas More, working hard for something, being able to accomplish it and having the opportunity to continue something I love for another four years."
Playing different sports broadens skill sets, makes a more diverse athlete and most importantly creates memories. Anna doesn't have one specific favorite memory because each team has so many. She says that her favorite part of playing from the past four years "is the friendships I made being a part of different teams with different people." 
On the academic side of things one may wonder how she manages all of these sports and school. With practices almost every day, some athletes may get overwhelmed and find it hard to find time to do homework. Anna states "I balance my school work and sports by making sure that when I am in class I am paying attention and in any free time or extra study hall I may have that I use it wisely." She also makes sure to try and finish up homework after practices before going to bed. Her favorite class this year is Zoology because of the fun work environment and being able to try new things such as dissections. 
Anna closes out with some words of wisdom for younger student athletes. "High school goes by fast. Have fun while it lasts, and try something new. You will never know what experience you can get out of something if you don't try."