Food Review: Chick'n'Cone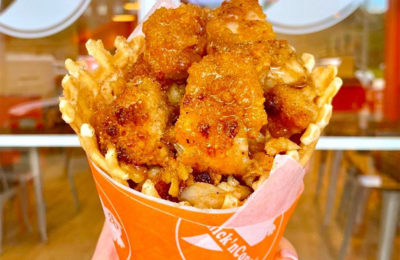 Chicken and Waffles is a traditional American dish which was introduced by Germans in the 1600's . It is now found as a menu item in several spots around the country.  Combining sweet waffles with savory fried chicken, it's a delicious meal for, honestly, any time of the day. Well, in downtown Hamilton, looking out across the Great Miami River, is a family owned restaurant putting a twist on this classic chicken cuisine:   Chick'nCone.
Chick'nCone has reimagined the recipe in a fun and creative way; rather than using traditional waffles and fried chicken, this restaurant places crispy chicken bites with sauce in a waffle cone. One of the biggest improvements of this iteration is the opportunity to experiment with the different sauces.  A diner can choose from  Cinna-Maple, Yell BBQ, BBQ, Kick'nRanch, Buffalo Blue, and Peri Peri. If you're craving a more traditional meal you can also get chicken tenders or a crispy chicken sandwich. Also playing a big role in the restaurant's success has been their side items. Maintaining the establishments simplistic nature there are only three sides to choose from: Caj'nFries, Caj'nCorn, and Mac'nCheese. Finally, if you're feeling dessert you can try one of their Waffle Crunch Shakes, which are made with in house waffles, of course. 
On my visit I had the staple meal, the Chick'nCone with Kick'nRanch sauce and a side of the Caj'nCorn. The service was excellent;  the counter worker combined an engaging personality with professional efficiency. The interior design was charming as well, with lots of wall graphics referencing the city of Hamilton and its history. In the back corner of the store, there is a two-seater high top next to a wall of decorative vines and a neon sign with the place's slogan So Cluckin Good") that's perfect for a date or social media post. The food itself was tasty and surprisingly fun to eat. Rather than eating with your hands or silverware, you use a toothpick. The Caj'nCorn was also delicious. 
If you're looking for something healthy, go to Firstwatch. But, if you find yourself pondering what you should have for lunch or dinner, and you want to have a fun time and good food, do yourself a favor and visit Chick'nCone.