Kailyn Dudukovich Athlete Spotlight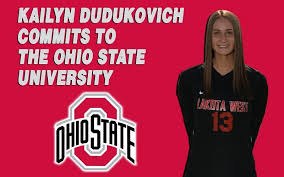 Kailyn Dudukovich is the closest thing to a celebrity there is at Lakota West, but being an all-star in soccer is not enough for her "perfectionist" mind. The key is she "needs to find a balance between sports and school." The Ohio State University commit is the epitome of a student-athlete.
Kailyn started playing soccer at the age of four, and she said she "doesn't remember a time when she wasn't playing soccer." Her favorite memory was making it to the National Championship with her club team in eighth grade. Kailyn has always been performing at a high level, even when she was in middle school.
When talking about the 2019 State Championship, she described the moment as "surreal" and she just had to "take a moment before she could celebrate." She praised her supporters and school, saying that "just to be a part of the history is such an honor". When I showed her a video of her game-winning goal for the state championship she said that her  "instinct took over, the pass from Amanda was obviously amazing and I just took the ball across my body, saw the goalie, and hit it with my left foot and it went in. It was like a blackout moment, I don't even remember what I was thinking from all the pressure. . . All I remember was my teammates tackling me, and the dogpile. Crazy." What's even crazier is that it was her 50th goal of the season, a truly "perfect number."
Committed to The Ohio State University, Kailyn is also committed to the fitness program assigned to her from the college. She says "even though it's a lot of work I love the grind. I wouldn't give anything up to be where I am now." Kailyn is very committed to her craft and hopes to continue playing soccer and someday play for the USA National Team.