East Palestine Train Derailment; National Responses
On February 3rd, 2023, a freight train from the Norfolk Southern Railway Company derailed in East Palestine, Ohio, near the OH-PA border. The train was carrying vinyl chloride, butyl acrylate, as well as other hazardous chemicals and combustible liquids. With many people at risk, citizens of East Palestine were ordered to evacuate under an executive order from Governor DeWine.

The Department of Transportation closely monitored the situation with nearly 70 emergency agencies responding. Ohio Governor DeWine ordered a 1 by 2 mile evacuation in Columbiana county. Similarly, Pennsylvania Governor Josh Shapiro ordered evacuations in nearby Beaver County. The Ohio National Guard was activated to lead evacuation efforts while the Ohio State Highway Patrol set up base in East Palestine High School to monitor the situation. On Monday, February 6th, Governor DeWine landed via helicopter on the football field of East Palestine High School receiving on the ground intelligence from the command center.
"The vinyl chloride contents of five railcars are currently unstable and could potentially explode causing disbursement of shrapnel and toxic fumes. To alleviate the risks of this shrapnel, Norfolk Southern railroad is planning a controlled release at approximately 3:30 PM." Governor DeWine said in a briefing at the High School. He later said it was a matter of "life or death".  The fires from the initial incident ceased later that day.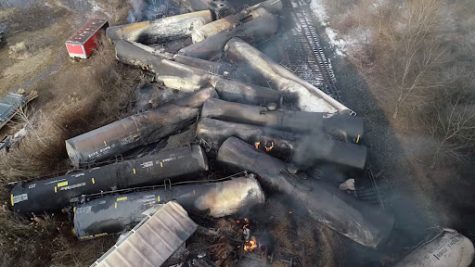 The cause of the derailment has so far been ruled as a mechanical fault in one of the rail cars, which reportedly was seen giving out sparks before the incident. According to the DoT, certain safety measures could have been in place prior to the incident that were not. Secretary of Transportation, Pete Buttigieg, did not make any public mention of the incident until ten days later, placing blame on the Trump Administration for a  decision from 2017.
"We're constrained by law on some areas of rail regulation, like the braking rule withdrawn by the Trump administration in 2018 because of a law passed by Congress in 2015, but we are using the powers we do have to keep people safe," Secretary Buttigieg remarked.
The incident has sparked national discussion and outrage in various areas. One such discussion is the lack of maintenance on railcars from railway companies, as well as the lack of more up-to-speed braking systems like the electronic ones which supposedly would have lessened the likelihood of the train's derailment. As for the chemicals, outrage is being shared over the issue of water and soil contamination, health risks to the people, and the animals of the area. According to the Ohio Department of Natural Resources, an estimated 3,500 fish are presumed dead and contaminated due to the chemical spill in up to 7.5 miles of stream.
Municipal water contamination has been tested as negative with Ohio EPA and government officials reporting the water is safe to drink. In a tweet shared by Governor DeWine, he said "New water testing results show no detection of contaminants in East Palestine's municipal water system. With these test results, @OhioEPA is confident that the municipal water is safe to drink."  As of February 9th, East Palestinians were released from the evacuation order and allowed to return home.
Many people have criticized the lack of national media attention the derailment is receiving as well as the seeming disinterest of the federal government in terms of involvement. Ohio Senator JD Vance has made several appearances on FOX news calling the Biden Administration out for its lack of involvement. Other republicans have instead called out the lack of media coverage calling it a cover up. While many have criticized President Biden for a lack of intervention, others say there have been actions made.
"Look, the president called me and said, 'Anything you need.' I have not called him back after that conversation. We will not hesitate to do that if we're seeing a problem or anything, but I'm not seeing it.", Governor DeWine informed reporters.
In a February 14th briefing by White House Press Secretary Karine Jean Pierre, she stated "Our top priority is, of course, health — the health and safety of the community." She continued to later inform that "the EPA will continue to conduct 24/7 air quality monitoring throughout the East Palestine community in the days to come."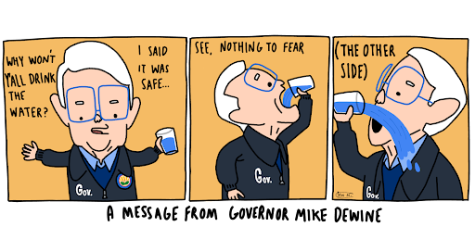 As of Feb. 16th, new information has been attained.  Controversially, FEMA has denied Governor DeWine's requests for federal assistance, contrary to President Biden's promise to assist in whatever ways possible.  A spokesperson for FEMA has provided the reason that due to the human nature of the incident, the train derailment can't receive federal funding from FEMA because it is not a 'traditional disaster'.
More outrageously, the Secretary of Transportation seemingly downplayed the incident in an interview with Yahoo news saying "While this horrible situation has gotten a particularly high amount of attention, there are roughly 1,000 cases a year of a train derailment.
In other news, a similar incident has happened in Detroit, Michigan where a freight train carrying dangerous chemicals has also derailed.