Pre-Med Club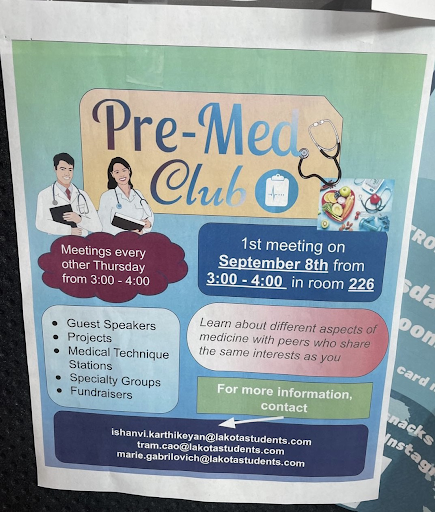 What is Pre-Med Club?
Pre-Med Club, started by sophomore Ishanvi Karthikeyan, is a club geared toward students wanting to discover their medical interests. In Pre-Med Club, members participate in projects, medical stations, and even fundraisers. Occasionally, guest speakers will even be present to share their knowledge and experience in the medical field. Secretary of the club, Marie Gabrilovich, describes the club as "like HOSA (Health Occupations Students of America), but without competitions." Pre-Med Club caters to what each individual is personally interested in. For example, anesthesia, neurology, dermatology, optometry, etc. At their last meeting, member Fatimah Idrees said that "members practiced CPR and taking blood." Overall, Pre-Med is amazing for students with interest in the medical field. 
Where is Pre-Med Club? How often are meetings held?
Pre-Med Club is held in rooms 226, Mrs. Derosset's room, and room 266. The club meets every two weeks on Thursday, and meetings are about an hour long. The next meeting will be held on November 30th at 3:00 PM. Be sure to check it out. Snacks are provided!
How can I join Pre-Med Club?
The group currently has 22 members, but are always happy to accept more! If you are interested in joining Pre-Med club, contact any individual on the leadership team. Ishanvi Karthikeyan (President), Tram Cao (Treasurer), and Marie Gabrilovich (Secretary) are all happy tocommunicate with you. You can contact them through their Lakota student emails.