West HOSA Students Advance to Nationals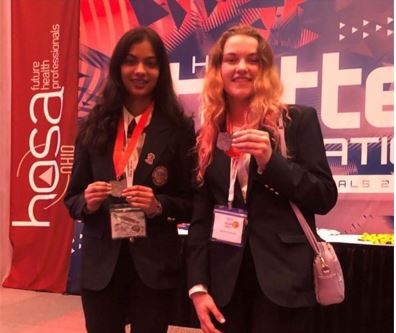 Riya Patel and Abby Wilson have advanced to the HOSA National Championship in Nashville this summer.
HOSA, which stands for the Health Organization for Students of America, is a club devoted to preparing students who aspire to a career in the medical community following high school, and the club culminates in an end-of-the-year competition. Lakota West, in partnership with Butler Tech, has two HOSA chapters. Students have the option of joining HOSA Exercise Science and HOSA Biomedical Sciences.
This year, Riya Patel and Abby Wilson competed in HOSA Biomedical Sciences in Community Awareness. This pair teamed up to raise awareness about building healthier lifestyles in our community. They created an easy-to-use recipe packet with options for vegetarians and vegans, and have an eye toward partnering with an organization to help teach young children how to follow these recipes on their own. Additionally, Patel and Wilson hand-drew a colorful children's book with all sorts of fruits, veggies, nuts, and grains, and they contacted several principals in order to provide these books to elementary schools.
Patel and Wilson's efforts earned them second place in the state competition and they are moving forward to nationals.
Nationals will take place in Nashville over the summer, where students will compete with winners from other state conferences. Patel is particularly excited as this experience will give them "the opportunity to engage with other driven and talented students" as well as to "explore even more health options." Wilson notes that this trip will give them the chance to spend more time seeing "what other students have created" and, importantly, she notes that "the hotel we are staying in is supposed to be super cool."
You can follow their efforts on their Instagram page @wellness4westchester.