Morning Announcement Music ( Mr. Brown's Version)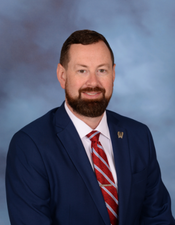 It's 8 o'clock in the morning, and you're dreading another tiring school day. All of a sudden a jingle plays from the classroom speakers. Mr. Brown is playing your favorite song! Your day instantly gets better. But where does he get inspiration for these songs? What is his favorite type of music? And what do the students think of these songs?
Mr. Brown has been playing music at the beginning of announcements for years now. It has become an iconic staple at Lakota West. Mr. Brown enjoys playing music for the school and believes that it helps students feel more comfortable and ready for the day. He especially thinks that it helps students get stimulated during lunch, thus reducing lunchtime conflicts. Playing music in the Cafeteria is something new that West tried this year. Mr. Brown believes that this has been a great investment. 
The type of music Mr. Brown plays during the announcements depends on the day, "it is very fluid and is based on the message I want to send out" he says. There are multiple factors that go into how he chooses what song to play. If there is a specific holiday or big event going on, you'll expect him to play something representing that. Sometimes he'll get his inspiration from a song he hears on his drive here. He knows that some of the music he plays is not many teens' first choice, but he always tries to make his music upbeat and positive. 
His favorite type of music is 70's rock, RnB, and disco. He also enjoys 90's music, but anything after is a hit or miss. He also wants Reggae and Bob Marley. In talking about his favorite types of music he stated "I love music and think it really does something for the spirit." It is clear likes to display this love in school. 
Mr. Brown sometimes worries that the teachers and students don't like him playing music. But according to Lakota West student Carmen Anderson, "It is something I look forward to" and "a fun way to start the day." Many hope this trend will continue throughout the school year and that one day their favorite song will be broadcast!