Buckeye State Hit with Red 'Wave'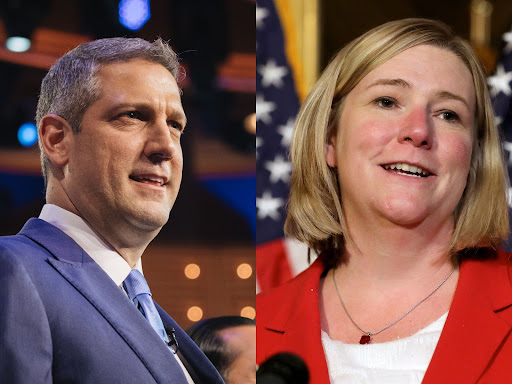 The Midterm Elections in Ohio were Tuesday, November 8th and the battle for the Governor's mansion and the open senate seat came to a close with republicans Mike DeWine and JD Vance seeing themselves re-elected.
 The campaigns went on for nearly a year while most people didn't recognize the candidates until the name-calling hail marys. We've seen nasty election ads and sly rhetoric traverse the state as politicians dazzle the people with their works and positions.  Ohioans have been facing energy, the fentanyl crisis, 2nd amendment rights, competing with foreign enterprises, and the national issue of Roe v. Wade.
In the big race for governor, Incumbent Governor Mike DeWine and Lt. Governor Jon Husted saw themselves re-elected by nearly one million votes.  Their victory came early compared to the rest of the midterm elections that lasted throughout the night and even until December 6th of this year in some states.  DeWine greeted the cheering crowd at the Ohio Republican Party conference in Columbus as they applauded him and First Lady Fran DeWine.  DeWine graciously took the mic after being introduced by the Lt. Governor. DeWine thanked him, as well as his own family, friends, campaign team, and long-standing supporters. In his speech, Governor DeWine recounted some of the many difficulties Ohioans have faced in the past, and how as their governor he will work to undo these wrongs and continue to make Ohio a welcoming place to live.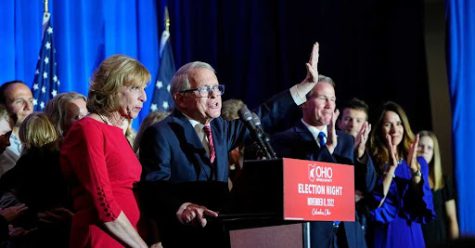 Defeated gubernatorial candidate and former Mayor of Dayton Nan Whaley conceded the election thanking her family and friends, her running mate Cheryl Stephens.  She told her base how she had just called Governor DeWine and congratulated him before continuing with the concession.  "Look, I'm not going to stand here and sugarcoat things.  I'm disappointed and I know you are too", Whaley said.  "There's a lot that's broken in our country and in Ohio.  And there's a lot that's not.  I stand here before all of you and every little girl watching as the first woman ever nominated for governor in the state of Ohio." she said,  "And I sure as hell know I won't be the last."  In her concession, she called the special interest groups corrupting Ohio politics and encouraged the importance of working for Ohio families so that they can receive real opportunities.
Democratic congressman Tim Ryan gave his concession speech in Youngstown after he was defeated by about 264,000 votes.  In his concession speech he said "I had the privilege to concede this race to JD Vance" snubbing election deniers in the country later saying "We can't have a system where if you win, it's a legitimate election, and if you lose, someone stole it."  Glossy-eyed and somber-toned, Ryan stood with his family on stage as he closed by quoting Robert Kennedy that with hardships, weariness, and sacrifice will come victory adding "victory for Ohio, and victory for our children".  The congressman thanked the crowd before waving off and leaving to be with his close aides of friends and family.
Contrasting the defeated concession of Ryan, Ohio Senator-Elect JD Vance greeted the already enthusiastic crowd at the Ohio Republican Party conference. Shortly after, Governor DeWine thanked them for their support as well as crediting his wife, his family, campaign team, Governor DeWine, and Lt. Governor Husted, as well as the Ohio Republican Party.  One big observation contrasting many republican victors endorsed by former President Donald J. Trump was Vance's omission of him in his victory speech.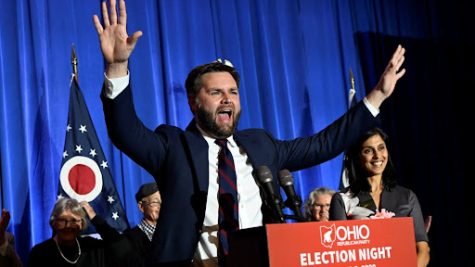 Vance gave a message to Ohioans before continuing to thank his team individually.  In his speech, he stressed the importance of starting right away saying, "We just got a great chance to govern and we need to use it. And I promise to all of my friends who are going to be at the State House, so all of my friends who are going to be in the state capital, we need better leadership in Washington DC and that's exactly what I promise to fight for every single day."
As for the House of Representative elections happening across Ohio, Republicans won 10 out of the 15 seats with democrats taking the remaining 5.  Republicans enjoyed a victory however not without some losses as longtime congressman Steve Chabot was unseated to democrat Greg Landsman.
The Republican victories in Ohio signal a different tune Ohioans are having.  Throughout Ohio's history, it has been a flip state however given recent elections, many have seen a trend toward the GOP.  How red has Ohio gotten is still under the microscope however as Ohio stands firmly in Republican control until the 2024 elections provide new insight into the buckeye state.