West Cheer Says Good-Bye to Varsity Cheer Coach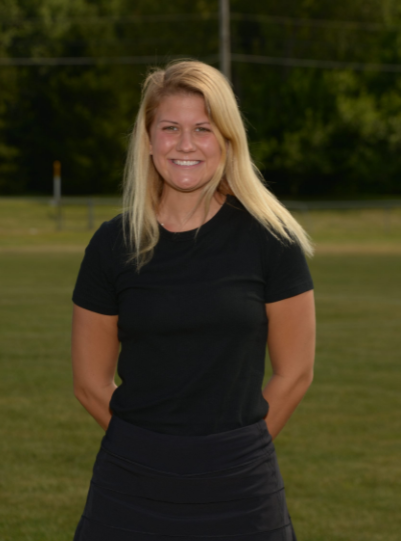 Last week, Kayla Rodgers was announced as Lakota West's varsity cheerleading coach and would be leaving the program to coach at Hamilton High School. Coach Rodgers has had an extensive career in cheerleading, as is an alumni of both Hamilton High School and the University of Cincinnati's cheer programs. She went on to coach at Lakota Ridge Junior School and eventually came to the high school during the 2018-2019 basketball season. Coach Rodgers came to Lakota West after the position opened up mid-football season in 2018. The squads were struggling internally due to coaching issues and needed someone to bring new energy and life to the program. Coach Rodgers did just that. With fresh ideas, a vision to bring collegiate level cheerleading to the high school, and an innate talent to bring others together, Kayla Rodgers built the program to where it is today. Even though West's football team has taken the school on the road to state the past two years, as well as the basketball team going to Xavier and UC during the state tournament, the cheer squads have brought top-notch skills, material, and energy to each game. This past season, West's varsity squad won the game-day division and all-around award for the GMC Cheer Competition. Coach Rodgers, in addition to JV coach Gina Miller and freshman coach Sydney Bailey, has created a fantastic cheerleading program over the past four years. 
Due to Coach Kayla making such an immense impact on the program and with tryouts fastly approaching, the coaching change sent shock waves through parents and current, senior, and alumni cheerleaders. Soon-to-be alumni Peyton Schappacher and Brinlee Foreman expressed their excitement for Coach Rodgers to be taking the position at her alma mater. However, Peyton expressed that since "she is an amazon coach, it will take some time to adjust." Brinlee stated similarly that she "had always seen Coach Kayla as the ultimate glue to the cheer puzzle…I am excited that Coach Kayla will be trying something new and [the new coach] is getting a lead role in the program." 
Not only were emotions a product of the announcement, but it also left a big question in everyone's minds: who would be taking the position? On Wednesday, this question was answered. It was announced that Sydney Bailey would be taking the head coach position. Coach Bailey is the former freshman coach and English teacher at the freshman building. She strives to make connections with the girls she coaches and is never hesitant to bring each girl to the fullest of their abilities. Rising senior Ava Chard stated that she felt "let down and nervous" when the news of Coach Rodger's leaving broke, but feels "comfortable now with Coach Bailey because she has been a part of the cheer program." 
It will be exciting to see the great things Ms. Bailey will bring to the program as its new head varsity coach, as well as Coach Rodgers at Hamilton High School.