Feliz Navidad
A drive to see the lights. Frosted cookies. Turkey or Honey Baked Ham on the table. Eggnog. The family gathered 'round a glowing TV to watch Elf, and waking up to unwrap the pile of gifts beneath the tree. The typical American Christmas.
But how do people from other countries celebrate the season? The US of A does not have a monopoly on the holiday after all.
This is what I thought during Journalism class as my Uzbek classmate talked about how she wanted to write a story about those who don't celebrate Christmas. As soon as she received the green light I raised my hand and explained my own idea.
As it happens, doing something well involves a lot more effort than I originally foresaw. To write a good story on worldwide Christmas celebrations, I'd have to travel across every continent: North and South America, Europe, Africa, and Asia.
Now before you say anything about the number of continents, I decided to ignore Antarctica and Australia, the first due to its inhospitable nature, and the second because, seriously, who cares about Australia? They walk upside down anyway.
Fortunately, Lakota West is a miniature world in itself, a microcosm (word of the week) of the globe. I was certain I could find enough students. And so it seemed at first. Even before I left on my global search I met with Rose Bawa in Mrs. Mahoney's own classroom. Hailing from Ghana, a country in western Africa, she told me about the traditional Christmas celebrations she used to partake in. Her family went to church on Christmas day wearing their traditional clothing, of which everyone gets a new pair for the holidays. After that, they'd return home with their extended family for Christmas dinner. What was interesting was that their choice meal was chicken. Now I say this is interesting, not because it's chicken, but because the specific chicken would be carefully selected while alive from the street vendors. Usually this would be up to her mother and grandmother, but regardless, the live chicken would be brought home once purchased. Unfortunately, I'm not allowed to provide a graphic description of the chicken's transformative journey to the table, but it definitely brings the family together and fills their stomachs with warm deliciousness, or so I was told.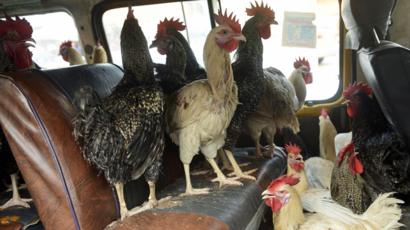 After that lucky break I'd have to find the information myself. I began planning my journey's itinerary, quickly gave up, loudly clicked my pen twice, tucked my planner under my arm, and headed off to Guidance. Original reports were underwhelming; West currently has only one foreign exchange student: Emilia Simon, from Hamburg, Germany.
Still, I learned she was at study hall and crossed main street toward 187. I'd be able to get two birds with one stone, as my friend Mbombu (aka. Stella) Lukusa, was also there.
I talked briefly with the proctor, and sat by Stella. After exchanging some pleasantries, I got to asking. It seems her family doesn't really keep many of the old Congolese Christmas traditions. But her mother does try to have an "Africa spin" on the meal, preparing a spice dip instead of the typically American cranberry sauce.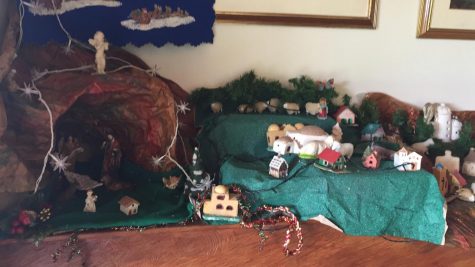 I then sat by our foreign guest and introduced myself. She had not yet read any articles on our paper, but was very gracious and well-spoken. I learned a little of her story; that is, how she came to Ohio, of all places in America. She also provided a generous amount of information on modern Christmas celebrations in Germany. The large family get-togethers are a thing of the past, as families grow ever smaller, and only the elderly and more traditional still celebrate with sausage and sauerkraut. In Emilia's own family, Christmas dinner is prepared with a raclette, a special kind of grill with individual compartments where each person can have whatever they want. The raclette is pretty convenient for Emilia and many others in her family who are vegetarians.
The gifts are opened on the evening of the 24th, a tradition shared with other non-english speaking countries, after which most of the young people go out to party (bet you didn't know the drinking age in Germany is 16).
People usually wake up late on Christmas morning, go to church to meet other people, and then go home to meet their neighbors for street parties.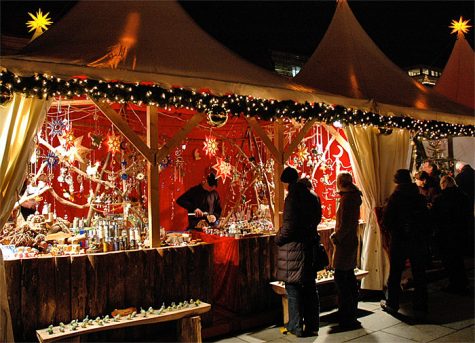 After these revelations, I crossed the Atlantic back to Mrs. Mahoney's, and dragged my colleague down to Mrs. Washburn's ESL class. As she spoke to a dude from Egypt, I spoke with Amarilis and the pandilla about their Christmas traditions in Guatemala and Mexico. They are fairly similar in both countries, with Las Posadas being the main focus on the days leading up to Christmas.
Originally introduced by the missionary Franciscan monks, Las Posadas is the religious and cultural remembrance of the hardships Mary and Joseph went through on the way to Bethlehem. To accompany the popular Christmas songs, grandmothers prepare hot chocolate, pan dulce (sugar-topped bread), and tamales (imagine a corn-dough meat pie). The Christmas Piñata is shaped like a seven tipped star, and the children pounce on the pouring candy once it gets whacked by a blindfolded volunteer. The smaller towns and villages often have their own separate traditions, like a traditional dance, but the festive mood is often followed with fireworks and alcohol consumption though their mix is potentially dangerous.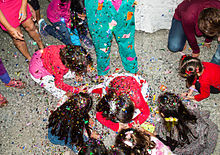 Still, no voyage is without its without mishaps and blunders, and my luggage (planner) was lost somewhere along the way with Asia and South America still left to go.
Exams, essays, and other inconveniences popped up as the people I asked about seemed unable to help. My two friends from Vietnam didn't have much to say, being thoroughly Americanized, and the person I knew from Peru was otherwise preoccupied.
Fortunately, at the eleventh hour, I remembered a classmate from Mrs. Zugelter's class last year who was from the Philippines. I caught Enzo Abrenica's phone number on the Friday before this article was due, and was able to speak with him on Sunday.
He told me about Simbang Gabi: how people in the Philippines go to Mass at four A.M. for the nine days leading up to Christmas, but here in the US they only went at six A.M. on Christmas Eve. Their main celebration is on that day, where they get together with close family and other people from the tiny Philippino community to partake in Adobo, specially prepared meat, and Pancit, Chinese inspired noodles, and hang Parols, star-shaped lanterns. As with most other countries, presents are opened at midnight.
With South America left, I suppose I must return home. In Colombia, the Christmas festivities revolve around the Novena of Agunaldos. In the nine nights leading up to Christmas Eve we get together with friends and family to pray, eat, and sing. Similar in many ways to the posadas, but in my opinion far superior (I am biased). With heartfelt prayers for the Gift given to mankind, beautiful poetry, ridiculous and charming carols, and extremely unhealthy food–including buñuelos, made of deep-fried cheesy dough–and natilla, everyone regardless of if they're practicing Catholics comes together around our giant pesebres (manger scenes), for the Novena.
I finally returned to America, exhausted after traversing the continents, but glad to see that everywhere Christmas brings people together to celebrate with family. I love Christmas, both for its meaning and all the traditions my family celebrates, American and Colombian alike. So, whether you still believe in the little Jewish baby born in a stable outside an unfriendly town, or just take advantage of the food and presents awarded during the season, the West Press would like to wish you, and your family, a Merry Christmas. Feliz Navidad!