A Band of Trophies
For eight minutes, the band captures the football fan's attention as they perform a memorized rendition of songs accompanied by synchronized choreography. In the moment, it's breathtaking. However, those football fans don't see the constant work needed to prepare for their time under stadium lights.
Around 240 members of the band begin their season in mid-July. The first week they practice from 7:00 am to 4:00 pm; the following week's practice extends from is 7:00 am to 9:00 pm; followed by the last week of extensive practice from 7:00 am to 4:00 pm. In addition to memorizing every note to their songs, these performers know their exact coordinates on the field, or "dots" as the band calls them, of where they should be, measured down to two or three inches. These students go through 79 dots on the field in just one show.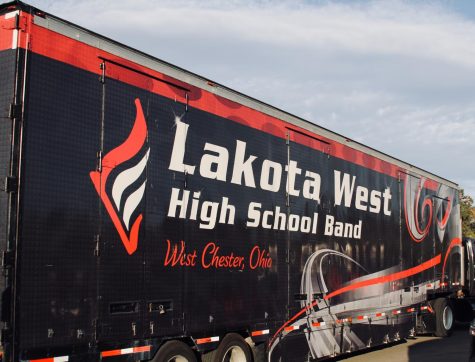 Practice doesn't end with summer. As the school year begins, the marching Firebirds can be found on the field Mondays, Wednesdays and Thursdays for several hours. After grabbing their instruments and warming up, they begin regular rehearsal, going from dot to dot for two and a half hours and rehearsing the same section for sometimes five or more times before moving on. This then ends with a full run from their first dot on the field to the last. Not to mention, there's pregame practice: coming onto the field, playing the opening fanfare ("Purple Majesty"), "Star-Spangled Banner", "Tribute to Troy" and West's fight song that takes them into the tunnel. But this doesn't end the week, Tuesdays for the band are dedicated to time with their individual sections to improve on specific parts of the show. This can include making sure everyone is contributing the same amount of volume and making sure rhythms and notes are correct. Then, Friday before the game, the band meets at 5:45 pm and begins warming up before we see them parading onto the field.
Christian Bogard, Co-Low Brass Section Leader, and current Euphonium performer says, "It takes a lot of time, focus and drive" to accomplish all the band does in just one season. Not to mention, there are more people behind the scenes driving the show. Among our two band directors, Mr. Carr and Mr. Celek, there is a drill writer, music arranger, ten members of a band camp staff, six regular band staff members, three members of a visual design team, and sixty-seven members of the pit crew, a group consisting of volunteers who run props, fix uniforms, and really just support the band in any way they can: "A group that cannot be paid enough gratitude," says Bogard.
Though there is a considerable amount of teamwork that pulls this show together, after multiple interviews, it became clear the band was more than just the music to several students. Other than making sure his section is on time, and has the right coordinates and ensures all is prepared for practice, Christian says several students look to him as the "band dad." There is a kind of support system found within the band students. Sections are like families, sharing each other's troubles and stresses as well as helping each other with rides, favors, or even just borrowing a couple of bucks off each other for dinner. Jasmine Ifeakanwa, a member of the Leadership Team and current Mellophone and French Horn performer, says that in the marching band, "you learn to hate, love and want the best for everyone."
After the scoreboard timer hits zero and the band marches back to the band room, Jasmine talks about unspoken traditions they have, like when these students put down their instruments, wrap themselves in blankets, watch movies and talk. For these students, as soon as their feet hit their field, everything goes away, and the band room is truly just a family room.
Interestingly, our band doesn't celebrate victories like other schools might, with trophies in clear crystal cases and accomplishments stapled on every wall. In a concert at the end of the season, most of the trophies are given away to seniors. "Band is defined by the people in it, not the trophies. The people are the real trophies," says Jasmine.
If you want to see them in action, the band will be performing at our last game with Middletown on November 1st, or you can support them at Grand Nationals, the national championship for marching bands, on November 14-16th at the Lucas Oil Stadium (The Colts Stadium).