Turning to Technology
Chromebooks are one of the newest additions to West's process of innovation. They arrived at Main Campus in January of 2018, and have been an integral part of the educational system ever since. These laptops allow students to conveniently access their student email and collaborate with others through discussion boards and Google Drive, as well as reduce the amount of paper used throughout the day.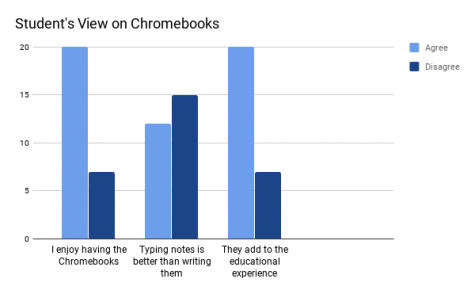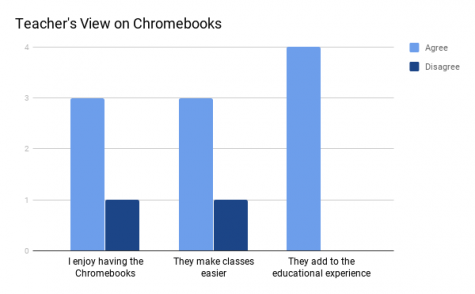 In order to discover more about the integration of technology in the classroom, we interviewed Mrs. Kleman, an Innovation Specialist right here at Lakota West. Her role as an Innovation Specialist is to work directly with teachers to help them meet their goals of integrating technology into their classrooms. She explained to us that since technology is constantly evolving, keeping up with and developing technological literacy is important. In addition to explaining the importance of being involved with the implementation of technology, Mrs. Kleman described the laptops as "a relief," allowing the teachers to be certain that each student has reliable access to the internet at school and at home, regardless of economic circumstance. Overall, it seems that many feel this way.
We took a poll of 20 random students, asking them various questions about their feelings toward the Chromebooks. As shown in the graph, the general consensus was positive, aside from a preference for traditional note-taking. When asked about their opinions on Chromebooks, several teachers shared the students' sentiment, with the outcome being relatively affirmative. 
We interviewed one teacher to get more in-depth opinions on the increased usage of technology in the classroom. When asked about the effect of the laptops on the educational system, Lakota West's Latin teacher, Mr. Burns, explained that they allow for more flexibility in delivering the content to the students, as well as more interaction for them; for example, the ability to share documents. He explained that the knowledge and ability to use technology are vital for both college and the workplace.
However, the effect of Chromebooks may not be as significant as schools want to believe. In a four-year study of World History class in two high schools (The Chromebook's Effect on Student Achievement in World History 1), the difference in test scores was minimal. Despite a small positive effect on the second high school, the scores weren't different enough to be classified as statistically significant. The results were 'mixed', and therefore inconclusive, but nothing in the study implies that Chromebooks impact education, positively or negatively. 
While there will always be challenges with the implementation of any new technology, it seems as though the general agreement is that the Chromebooks are a helpful addition to the educational system and allows for more collaboration between students. Despite the lack of a groundbreaking effect on education, the student and staff body agree that Chromebooks make school more enjoyable, provide a wealth of information at every person's fingertips and make communication easy and accessible.