FC Cincinnati Extends Undefeated Streak to 5 Games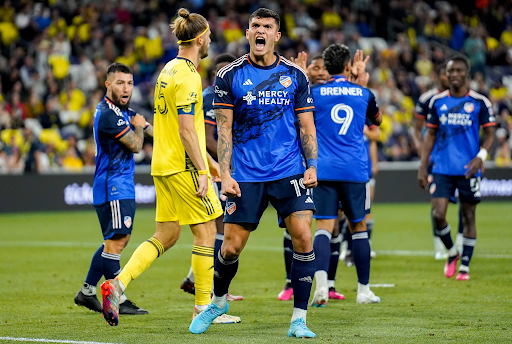 FC Cincinnati went to Nashville to play fellow former USL (United Soccer League) side Nashville SC.  Even with a solid game from Nashville goalkeeper Joe Willis, FCC was able to head home with all three points after a 1-0 win and a dominant performance.
FC Cincinnati came into the game with many questions, the biggest one being how were we going to replace Junior Moreno (International Duty),  Marco Angulo (International Duty),  and Yuya Kubo (Knee Injury). In the end, they decided to replace them with former Princeton midfielder Malik Pinto, who before this game had zero competitive minutes for Cincinnati and made his debut in the starting lineup. Facing reigning MVP Hany Mukhtar, Pinto completed all 22 of his passes and keep Mukhtar quiet until he came off in the 64th minute.
The biggest praise of Malik's performance was none other than head coach Pat Noonan himself, saying Malik "looked like he got way more comfortable connecting simple passes" Cincinnati Soccer Talk. 
Another question going into the game was whether or not Brandon Vasquez would be able to finally get his first goal of the season. Brandon had gone the first four games of the season without scoring and after not getting called up to the USMNT for international duty. In the 48th minute, however, Vazquez was able to score a rebound from a Joe Willis save and finally get his first goal of the season, which would also become the game-winner.
FC Cincinnati will be back home after playing away for the last two weeks, playing Inter Miami on April 1st at TQL Stadium. FCC will look to get a more than comfortable win, as Inter Miami is currently on a 3-game losing streak; most recently losing 3-2 at home to the Chicago Fire.