Lakota's APPROVED Master Facilities Plan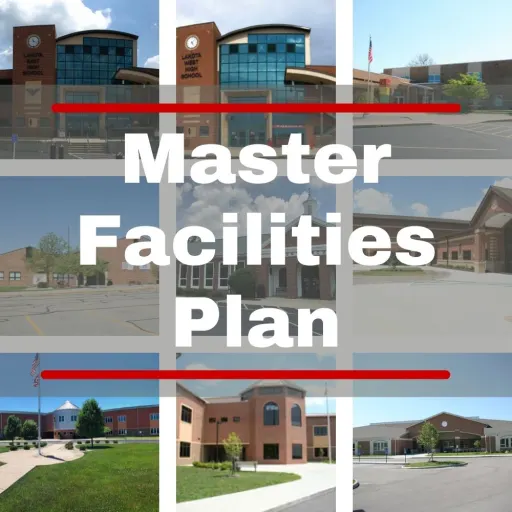 Over the past few years, Lakota's School Board has been hard at work constructing the future of the district, from designing new buildings, changing grade setups throughout the entire district, and even adding a potential third branch of Lakota. Recently, however, one of the district's four plans was approved, leading us to wonder what will change. Let's look at Lakota Local Schools' new Facilities Plan, and the district's future as a whole. 
After years of different options presented to the board for voting and review, Option 4 (of four total options) was chosen as the approved plan, per the vote on December 12th. Four of the Five Board Members called for the option to be finalized, with Darbi Boddy being the exception. The chosen option, which has a whopping price of 502 Million Dollars, Consists of 15 total schools in both East and West, with two new high schools being built and the current high schools being renovated into combined middle schools. When reviewing the decision, Treasurer Adam Zink considered Option 4 to be "a very, very nice happy medium (and is) fiscally responsible for putting in new programs for the kids", per a statement posted on Lakota's district website.
        Though a price tag of over 500 Million Dollars can feel overwhelming, Option 4 also enables Lakota to enroll in an Expedited Local Partnership Program through the Ohio Facilities Construction Committee (OFCC). This group would help to lower the bill, lifting stress from taxpayers and the frightening costs they could have to pay. On top of price lowerings, Board President Lydia O'Connor hopes to bring in experts and make suggestions on how to lower costs for the plan. If everything goes well, around a third of the total cost could be relinquished, bringing the final payment somewhere around the mid-300 million dollar range.
        While the plan seems ambitious, certain aspects of it will fix lots of criticisms that have come from the community and students alike. For example, the two freshman buildings will be demolished and 9th Graders will join the rest of the high schoolers at the main campus. This would benefit students in every aspect of school, from clubs and sports all being at one place, to not always moving to different buildings every 1-2 years since leaving Elementary School.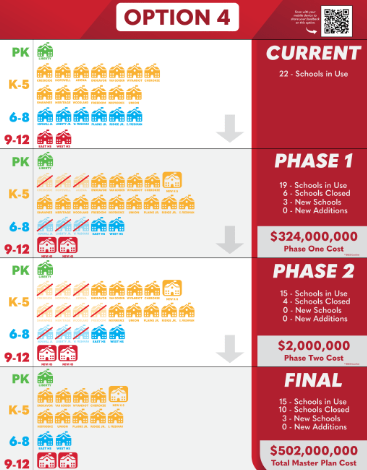 Speaking of changing the grade setups, we would see just ONE Preschool building, along with ten K-5th buildings and two 6-8th middle schools. Having all preschoolers in one building would make it helpful, as everyone in the district would start (and end) together with a similar base and experience of their earlier and later years. 
Elementary schools would create a safer environment and allow for smaller amounts of students per grade (since there would be 5 elementary schools for each end of the district, hopefully allowing for smaller classroom sizes as many teachers have begged for). 
        Middle schools being 6th-8th grade would allow for the Band and Choir programs to have another year of full music education in classrooms and would help boost both groups in their endeavors, while also giving 6th graders an opportunity to continue maturing with older kids and learn from one another in a new environment, made just for them as they become new people and grow into themselves and their local community.
One of the major changes that could be viewed in many ways, is taking the current high schools and turning them into middle schools. Instead of having two middle schools on each side of the district, both would be combined (Think of this as Plains and Ridge never actually being separate, but instead in one big building). While this might leave a sour taste in current students since middle schoolers will get such a nice experience in a massive building, future generations will get to experience a larger district at an earlier age and be able to experience a bigger community and space to grow in this facility.
        What about these new high schools? What can we expect from them? While almost no details have been shared of specific buildings, it would be in the student's best interest to have a pool for each building, considering Lakota is one of the only districts in the area without one. Larger facilities for musical programs like the band and choir would be a must, and hiring more staff for smaller class sizes would be a basic necessity. Where these buildings would be located is the biggest unknown, with many speculating locations, such as West's new high school being quite a bit west of its current location and East's high school being more south than it currently is. 
        So much isn't known about the now-approved facilities plan, but with plenty more meetings coming in future months, it will surely be interesting to find out what the true intentions are of the board and where they plan on taking Lakota Local Schools, both in the East and in the West.