Lakota West Girls Cross Country Team Takes 7th at State Championship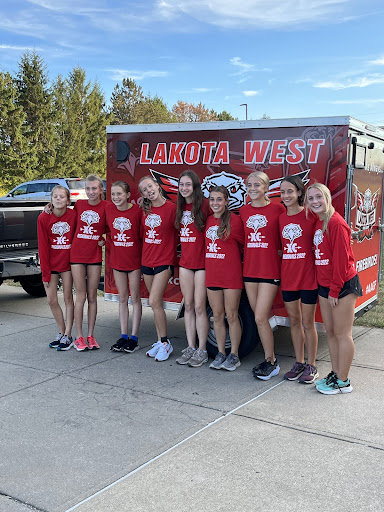 On November 5th, 2022, the girl's cross-country team placed seventh in the division one cross-country race held at Fortress Obetz.
Leading the way to victory was Sophomore, Evelyn Prodoehl, who finished fifth overall with a time of 18:19.8. When asked about her race, she said that the race "went good and the team did great". Following Evelyn is Senior, Lauren Mang, who placed 70th overall with a time of 19:50.9. Placing third on the team and 77th overall is Freshman, Ava Shepard, with a time of 19:54.5. She was followed by Junior, Maddy Asher, with a time of 20:01.2; Freshman, Johanna Spetz, with a time of 20:15.2; Sophomore, Kaitlin Kaszubski, with a time of 21:20.5; and Freshman, Alyese Caldwell-Downing, with a time of 21:34.5.
For the girls, it has seemed like an uphill battle all season. They weren't even sure if they would qualify for State at the regional meet. The race at regionals was going great until halfway through the race when the number two runner, Lauren Mang, felt stabbing pains in both her legs. Her legs were cramping up and there was no way that she would be able to perform with the intensity she normally brings. Luckily, the other girls were able to pick up the pace. The girl's team narrowly beat out Lebanon by one point for the last spot to go to the State Championships. After that scare, the girls knew they needed to train well and take care of themselves in the week leading up to State if they wanted any hopes of placing well. A coach that would like to remain anonymous commented that "the girls trained well all season and did great [at the meet]". As a result of this hard work, the team was able to secure seventh place!
The Girls Cross Country Team have obviously worked through many challenges, from injuries to transportation, to get to where they are now. They were second overall at districts and fifth overall at regionals. Just making it to the state competition is an enormous accomplishment, but placing seventh is even better. While the team is sad to be losing their beloved seniors (including one of their top athletes Lauren Mang), the girls have high hopes of making it back to the State meet in 2023 and dominating the competition. When asked for her final thoughts about the meet, Kaitlin Kaszubski added that "it was a great experience that brought all of the girls closer as a team. It was also a really emotional meet and a good sendoff for Lauren".