Lakota West Band Trips 2022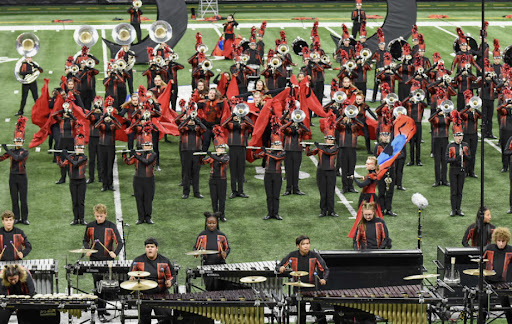 Recently, the Lakota West Marching band traveled eight hours by bus to the city of St. Louis and back. While they were there, they performed once in a large stadium titled "The Dome" at America's Center. They also did some tourist activities such as; going to the top of  the St. Louis Arch, and visiting the City Museum. An anonymous source said, "The City Museum is like a large playground". The band as a whole enjoyed their trip and their experience performing together. 
On Thursday, November 10th, the Lakota West Marching Firebirds also departed for Indianapolis to compete in the Bands of America Grand Nationals, taking place in Lucas Oil Stadium. Throughout the week leading up to the trip the band had an 8 am to 5 pm practice on Tuesday to give themselves extra confidence in their performance and hopefully an advantage against their competitors. The band performed their show, Nocturnal Creatures, on November 10th for Prelims, which has won them three 1st places. Since the band's hard work all season paid off, they continued on to the semifinals and performed again Saturday, November 12 for an audience of many thousands of fans, all gathered for their love of music.
An anonymous source says, "I'm excited to go on the trip and perform. I think it will be fun and a good experience". This member of the band was happy to be interviewed and seemed enthusiastic about the opportunity to perform more than once at the competition. During the trip to Indy, the band did more than just perform: They visited the Indianapolis 500 Speedway and saw the movie Wakanda Forever in theaters on opening day. Overall, the trip was a great end to the 2022 band season.