Baylor Beats Gonzaga in Great Fashion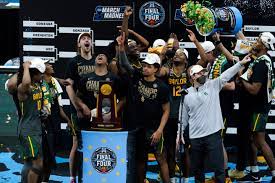 After many months of college basketball, the season ended with the Baylor Bears capturing their first National Championship.  All season Gonzaga was favored to win the title and most predicted this matchup would occur — 16% of brackets predicted a Gonzaga vs Baylor matchup. Led by coach Scott Drew and future NBA draft picks Jared Butler, Davion Mitchell, and MaCio Teague, Baylor pulled through to defeat the undefeated Gonzaga Bulldogs. 
In the first half Gonzaga started off slow, and Baylor took advantage jumping out to a 9-0 start and never looked back.  Baylor, who had one of the best offenses in the country,y proved it by shooting 45% from the field and 44% from 3. Baylor also showed a great defense by holding Gonzaga to a season-low 70 points.  (Before this game Gonzaga led the country in points per game with 91.6). Gonzaga couldn't buy a bucket from the outside and shot a pitiful 5-17 from 3. Missing free throws and losing the rebound count is a recipe for disaster. Before you knew it, the Bulldogs found themselves down by 19.  The first half ended with Baylor leading 47-37. 
Jalen Suggs, who hit one of the greatest shots in NCAA history against UCLA to send them to the Championship game, started the game off badly by missing a three and fouling almost immediately. Since he got in foul trouble he had to sit when the Zags were down 9-0. In the second half, Jalen Suggs picked up the slack and scored 15 of his game-high 22 points in the second half. Although he went off in the second half, no one else could really get 100% going like they did all season. They had to play from behind all night, and it ultimately cost them in the end. 
Corey Kispert, who was Gonzaga's second-leading scorer and the best shooter in college basketball, flamed out this game and the last three games of the March Madness tournament. He put up 12 points shooting 44% from the field, down from his usual 53% shooting. Drew Timme who was Gonzaga's leading scorer put up twelve points but only put up seven shots while getting in foul trouble in the second half
The Zags had been to the Tournament before, losing to North Carolina in 2017. With the Zags having a chance to be undefeated and lose in that fashion, this hurts more than the last one. With 7-foot center Chet Holmgren committing to Gonzaga, Gonzaga won't be out of the title hunt any time soon.