Review of the Superbowl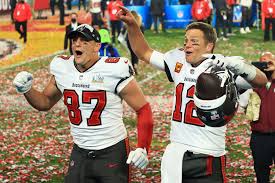 After an improbable regular season for the NFL, the Superbowl also had an improbable ending. The Kansas City Chiefs faced the Tampa Bay Buccaneers in one of the most surprising lopsided victories in years.  NFL analysts across the country rang in their predictions for who was going to win the Superbowl.  According to ESPN, "We asked 108 experts to weigh in on who will win." The Chiefs were picked by 81 of them (75%). The Buccaneers were picked by 27 of them (25%). Also on the CBS Super Bowl pregame show, 4 out of 5 announcers picked the Kansas City Chiefs to win the big game.  Basically, the whole world was expecting the Chiefs to come out and handle the Buccaneers. However, Tom Brady had other plans.
In the first quarter of action, both offenses looked a little uncomfortable. This wasn't anything unusual, as nerves usually get the best of the players until they get settled into the game.  The Kansas City Chiefs got on the board first with a 49-yard field goal to make the score 3-0.  On the following possession by the Buccaneers, Tom Brady was able to find Rob Gronkowski for an 8-yard touchdown pass to make the score 7-0. The Buccaneers never looked back after that. In the second quarter Tom Brady found Rob Gronkowski again for a 14-yard touchdown pass, then later found Antonio Brown for a 1-yard score. After another made field goal by the Chiefs, the score at halftime was 21-6. The Buccaneers continued on in the 3rd quarter to score 2 more touchdowns and allow just 1 field goal. After a scoreless 4th quarter by both teams, the final score was 31-9 Tampa Bay. 
Overall, the Chiefs never really had a chance in this game. The combination of the Buccaneer's defensive line applying constant pressure on Patrick Mahomes, and the Chiefs defense allowing Tom Brady to get into a rhythm, played right into the Buccaneer's hands.  The G.O.A.T Tom Brady took home the Superbowl MVP award and also was awarded his 7th Lombardi trophy.  The Buccaneers played faster and stronger on the night of February 7th, and the score definitely reflects their effort.