Why People Hate Ohio State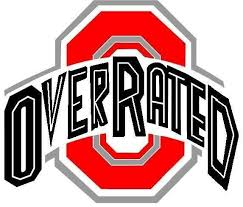 Why People Hate Ohio State
As we see with any prestigious sports teams and programs, it is destiny to get hate from fans, rivals, and even people that don't have a legitimate reason to hate the team. Ohio State Football, Bengals Football, Cowboys football, Patriots football —  all these teams are hated whether fans live in the area or not. The more successful teams are, the more rivals they accumulate. We at the West Press wanted to find firsthand why people hate certain teams, especially teams that should be local favorites such as Ohio State.
When it comes to big-name sports like football and basketball, or any sport for that matter, fans can be an important aspect in swinging momentum and giving the home team motivation to close the game out.  Locally, there are many people who work to turn the momentum against Ohio State.   It seems that some people really hate the FANS and not the teams.  I spoke to Brady James on why he hates Ohio State. He responded, " I don't like OSU because the fans are stuck up, sore losers who can't accept that they lost a game. When OSU lost to Clemson 31-0 I didn't hear a word from Ohio State fans."  According to Brady, Ohio State fans are toxic, who not only can't take a loss but can't stop talking when they win or when they're on top. I also asked Tyus Jones why he hates Ohio State fans and he also alluded to Brady's point about fans but he also points out that, "You can't determine who is a real Ohio State fan or not. People who live in Ohio will say they are Ohio State fans but can't name more than 5 people on the team. If you meet an Ohio State fan, they aren't an Ohio State basketball fan but a Duke or a Kentucky basketball fan."
It seems through this mini-experiment that people don't like Ohio State because of some toxic fans and that most fans only like the football aspect instead of any other sport. Or they are jealous of Ohio State's success and become upset when people express it. Hopefully, people can enjoy the greatness of Ohio State instead of feeling the need to hate.