Top Halloween Movies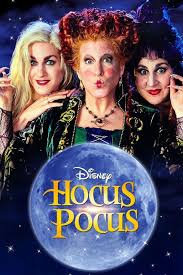 With Halloween just around the corner, the time has come to put on your best fuzzy socks and pull up your scariest mask to prepare for this holiday. As the nights grow longer, people often want something a little scarier to spice up the regular movie regime. Here are 10 of the best Halloween movies to binge this fall season.
Hocus Pocus
Three hundred years ago the Sanderson Sisters were executed for witchcraft. After accidentally being brought back, it is up to Max and his friends to save Halloween and stop the witches from obtaining eternal life.
     2. Halloween Town
Thirteen-year-old Marnie grapples with the discovery that she is a witch, just in time for an evil force to threaten the beloved home to most supernatural creatures, Halloweentown.
     3.Coraline
Coraline discovers that her new home contains a door to an alternate dimension where there is a magical garden, new food, and an even better mother. Coraline now faces a decision to stay where she is or live a new life with a mother, who may not be all she seems.
     4.Girl v.s Monster
In this Disney flick, Skylar just wants her parents to stop being so overprotective. But, when she discovers that her parents are monster hunters, her life is never the same.
      5.Twitches
Two girls discover that they are not only twins but witches. They now face their greatest foe of all, who is threatening to destroy everything their parents built.  
      6.Halloween 
After killing his sister at six-years-old Michael Meyers has escaped and is out on the prowl Halloween night to claim his next victims.
      7.Nightmare Before Christmas
In this tale, Jack Skellington, the Pumpkin King of Halloweentown attempts to add some holiday cheer to the monotony of Halloween. 
       8.It's the Great Pumpkin, Charlie Brown
The Peanut gang celebrates Halloween, while Linus waits in the field to be visited by the infamous Great Pumpkin.
       9.Scream
This Halloween movie follows the spree of a serial killer who has a knack for calls. Watch as he terrorizes a group of high school friends.
      10.Poltergeist
Poltergeist has been called the original horror film. The story follows a family progressively being agitated by a malevolent spirit, a poltergeist.