New Principal Who This?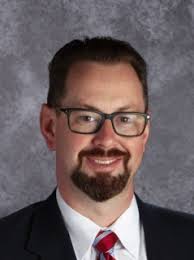 After a rough and tiring five months, we're back to school, Firebirds! A lot has changed, and we want to inform you about one of the biggest changes. As most of you know, Mr. Card was promoted to the position of Senior Director of Diversity and Inclusion. Though we are very sad Mr. Card is no longer our principal, Ben Brown has stepped up to fill the shoes of Mr. Card. Talking with Mr. Brown, we got to know him and gained insight into what to look for in the future from our new principal. 
As expected, with a new job comes new responsibilities and challenges, especially with the huge change in the number of students. Ridge has 559 students, and Lakota West possesses a staggering 2,221 students. When asked how he is handling the increase in student numbers, Ben Brown said, "It hasn't felt too overwhelming, with a lot of the kids coming from Ridge." Already having relationships with many of the students helps make this transition easier.  
"I miss the smaller community and the relationships but I'm really excited to build new and better relationships. We also need to remember that the VOL students are still a part of our school and we still care for them just the same as everyone else". With taking this giant leap Mr. Brown realizes it's going to be a lot of work to relate with every student but he is eager to get started. Facing many endeavors in his previous years of life has instilled in him the strength and prosperity to tackle challenges and look at life through a different perspective.
Being an educator is a special job, you have to be able to work well with others and connect to the kids. We got the opportunity to ask Mr. Brown why he chose to be a part of education. Brown discussed how he was not a model student and didn't take school seriously. He wants kids to understand that you don't always have to be an AP and Honors student to be successful and reach your goals. He's learned from being in education and from his personal experience that students have countless needs to be met and wanted to provide something different from what he had encountered as a student himself. One of Mr. Brown's favorite parts of being principal is the ability to be a stable influence in students' lives. By building and maintaining authentic relationships with students, staff, and families, Brown heavily focuses his time on fostering a student-based, positive environment at school so that everyone feels safe and cared for. 
Looking to the future of Lakota West, Brown wants to reimagine the high school experience, while still upholding the legacy of Lakota West High School. Brown wants to enhance the student experience through magnifying students' voices and giving them more choices. His goal is to reimagine the way students view school by making it somewhere they look forward to coming to and having a safe environment to express themselves. Brown knows that West's legacy has started a groundbreaking movement of building up the youths' leadership in their own education. Being Lakota West students, we look forward to seeing everything that Mr. Brown has in store for us. We are excited for this new era to begin, and to one day be a part of the legacy that Lakota West has been built off of.