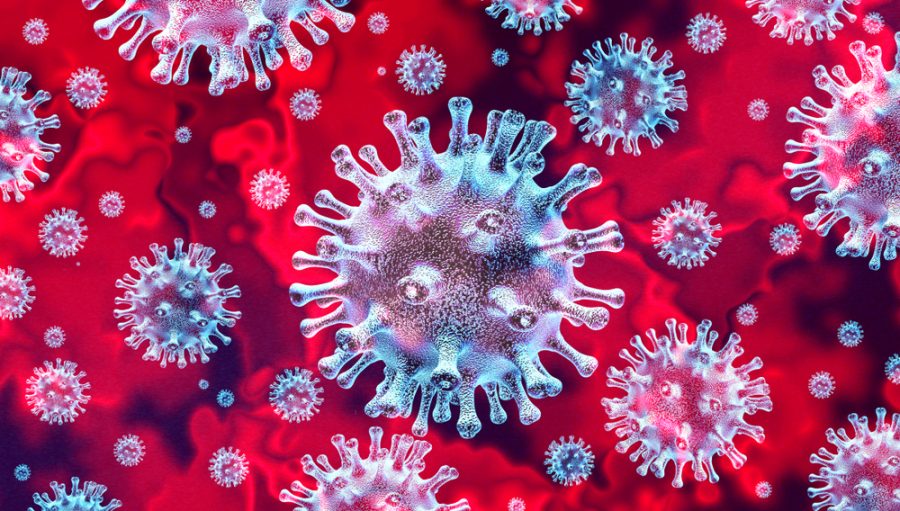 Outbreak of Deadly Coronavirus Becomes a Pandemic
May 7, 2020
The outbreak of a new dangerous coronavirus–this year's dubbed COVID-19–has received tremendous media coverage, especially since its recent upgrade to a global threat.
A quick Google search of the disease yields billions of results in under a second, including live updates, celebrity input, and endless recommendations to remain indoors. Various organizations, from the College Board to the CDC, have created separate pages on their individual web sites solely to provide information about the virus. 
A coronavirus is a respiratory disease, spreading through the air when a person coughs or sneezes. About two weeks after exposure, a person may exhibit a variety of symptoms like headaches, a sore throat, diarrhea, coughing, shortness of breath, and an unexplained loss of smell or taste. When a person becomes infected, their lungs become inflamed with the virus which leads to complications such as pneumonia and acute respiratory distress syndrome (ARDS). The resulting breathing difficulties pose a greater problem for the elderly and underscore the global need for ventilators for hospitals. 
Overall, the mortality rate for coronavirus is about two percent, though a person's individual risk may vary based on age, previous health conditions, and even their home country. One of the largest criticisms of the United State's treatment of the disease is the lack of available testing. Many article headlines claim that the US has not tested enough of its population, which may undermine the country's reported number of infected individuals and skew global data. Proposed remedies include free drive-up testing stations, as a single test may cost upwards of one-thousand U.S dollars.
Across the globe, countries have been instituting a new way to fight the spread of COVID-19 called "social distancing." Every person must stay away a recommended six feet from others. Initially, practicing social distancing doesn't appear difficult until people take everything they do in their normal lives into consideration. Preventing increased cases of COVID-19 requires governments to make sacrifices. World leaders have ordered closures for sit-down restaurants, malls, and mass gatherings, with no set reopening date in sight. Most states in the U.S. have also set lockdowns in place, ordering people not to make any unnecessary journeys outside. Other suggestions against coronavirus include frequent hand washing and wearing masks to cover the mouth and nose. 
Over two million people worldwide have contracted the coronavirus, and the World Health Organization has reported over 160,000 deaths. Most media coverage highlights COVID-19's death count and the panic such frightening information inflicts upon local communities with their hospitals' lack of supplies and skyrocketing claims of unemployment. Over half of a million people have recovered from coronavirus, and articles that focus on their survival may lift up individuals during  this time of uncertainty.