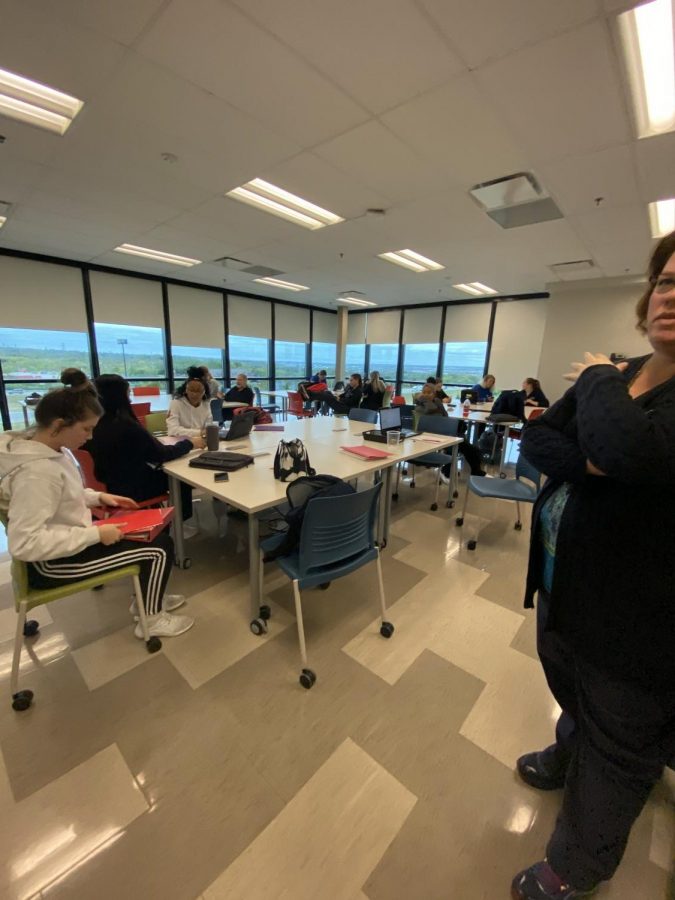 Butler Tech
November 1, 2019
Butler Tech. The name is familiar to most of us, but few know exactly what it is or how Lakota West is involved. Essentially, Butler Tech provides industry-recognized credentials to 11 local school districts allowing them to complete their high school credits while also provide college credits. Lakota West is involved in two main programs with the organization. Firstly, students have the option to attend an actual Butler Tech campus depending on different occupational fields at each different location. But also, Lakota West provides some of their courses at the high school itself, primarily in the STEM field.
The society is emphasizing STEM education(Science, Technology, Engineering, and Math) more and more each year. Girls are especially being encouraged to go into the engineering field since it is such a male-dominated occupation. Butler Tech offers free courses at West that include Sports Med, Aerospace, Home economics, Biomed, etc. that exposed more students to go into a STEM field. We interviewed a few of our own teachers including Mrs. Roether, one of our sports med teachers, Mrs. Markovich, one of our engineering teachers, and we also interviewed Mr. Westmoreland, our web design teacher. All of them have never been a teacher before teaching at West and have come to the classroom directly from the field itself. Therefore, the things students are learning in these courses come from well-experienced professionals who willingly decided to teach, making the course more credential and situational to real life.
All Butler Tech courses taught at West are hands-on and are personalized learning. They are challenging courses that provide a curriculum for students. Teachers present their lesson about the course but then, the students work on their own while the teachers supervise and answer questions that students might have. Butler Tech's assignments are more career-related — trying to encourage creativity, responsibility, and flexibility. The Butler Tech teachers here at West love their teaching style. Not only are they doing what they love, but helping others find or pursue something they are passionate about. For example, Mrs. Roether, a Sports Med teacher at West, said that she enjoys teaching her Butler Tech course because she can "build relationships with students" due to it being a more hands-on course.
What if you're a student who knows what field you want a career in? Butler Tech has three main campuses for high school students. They have a School of the Arts, a Natural Science Center, and a Bioscience Center. Butler Tech encourages students who know the career path they want to pursue to see what they have to offer. It provides free courses that are directed toward the occupational field. Taking this kind of path provides you with more opportunities to work and a huge advantage going into college or being able to find a job as soon as they graduate high school.
Butler Tech Campuses are designed like a mini-college; therefore it is a smaller option for schooling. They have shorter school days and lots of free time. Starting in February they are given Fridays off. These, of course, are all rewards. To go to Butler Tech you have to be very mature. You are given so much time that responsible decisions have to be made in order to keep up with school. It is a great place to get a head start on your own career and also receive all your credits for high school for free! Taking a Butler Tech course will put you at an advantage in your occupational field even if you are not planning to attend college.
For example, Hannah Guise is in exercise science at Butler Tech. She spends three hours a day studying fitness evaluation and athletic injury and prevention. The rest of the time, she is earning college credit at Cincinnati State. Echoing Ms. Roether, Hannah "loves the way teachers take into account different learning styles. After a lecture, we always make sure we understand the concepts through hands-on activities."
Overall, both Butler Tech options are there to help students find their passion and to expand their skills as a student. The open-ended courses filled with flexibility, responsibility, and time management are there to help you pursue your passion in that occupational field no matter what campus or what your future holds.