Movie Review: Joker
Raking in nearly $40 million on its opening night, Joker, based on America's favorite villain, has been praised by many while feared by others. As one of the most controversial movies of recent years, many officials are on high alert as they believe Joaquin Phoenix's latest masterpiece promotes violence and societal subversion. At the surface, Joker is wildly addicting and extremely entertaining, but the movie certainly presents a less entertaining moral once further explored. Living up to its R rating, Joker is a dark film filled not only with dark innuendos, but blatant psychotic messages.
In the beginning of the movie, Joker presents a refreshing backstory to one of comic's most enigmatic characters. The life of Arthur Fleck, the new Joker, is explored pre-mental breakdown as he works for a rent-a-clown business in inner Gotham during the early '80s. When he is assaulted on multiple occasions, and loses access to his psychiatrist due to state budget cuts, Fleck spirals into violence, leaving mass destruction and general chaos throughout the city in his wake.
If you plan on going to watch this new blockbuster, keep in mind its R rating due to its abundance of graphic and gory scenes. All in all, it is worth the price of a movie ticket and you will not be disappointed in the cinematic features. Joker demonstrates the best that DC has to offer and easily surpasses recent movie experiences from the company.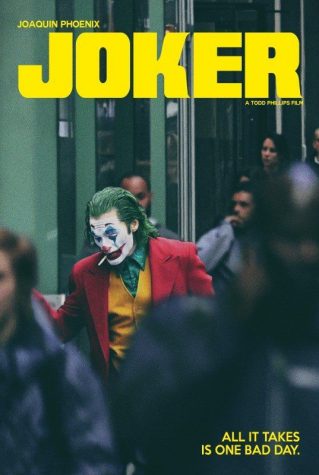 Linked is the official trailer for Joker released by Warner Bros on April 3rd.