The Smile That Brightens The School: An Artist Spotlight
October 23, 2019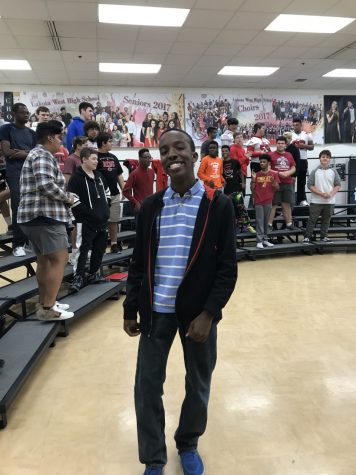 Jayvyn Jean-Mary is a lighthearted, lively spirited senior at Lakota West Highschool, best known for his contagious enthusiasm about music and friendship. He has been involved with the Lakota West choir program for all four years of highschool, and also participates in private practices outside of school. On his own time, Jayvyn enjoys beat-boxing, along with creating his own freestyle rap. In doing so, he's already produced three of his own albums.
Jayvyn is passionate about his singing. It is what makes him tick.  "When I'm on the stage and everyone is smiling at me, I feel great and ready to sing. It makes me feel loved. In my fifth bell class, it's a brotherhood between us, and it's for life, which also makes me so passionate about singing."
Jayvyn's hidden heroes lay both far and close to home. A well-known celebrity, Tavis Scott, is near Jayvyn's heart: "He inspires me to keep going and he inspired me to do music from the get-go." Another, more hometown, hero of Jayvyn is his cousin: "He inspires me to keep going with my music as well."
Jayvyn is very enthusiastic about the artists who have inspired him in his life. Particularly, he is influenced by contemporary rap artists. He notes that his "favorite right now is Jaden, SummerTime, Paris, [and] Doja Cat." He is drawn to the melodies the artists have beautifully formulated.
Among some favorite songs Jayvyn enjoys are Stfu by Scar Lord and Immortal by Snake Skin. Jayvyn's favorite genre of music is rap. He finds the real-life topics relatable; he  "feel[s] it in his soul."
Everyone at Lakota West knows that shining, joyful, and contagious smile on the stage. In the future, we hope that it is more than Lakota West that knows him.  Perhaps he will be seen winning an award at the Grammy's, or he will be seen on billboards around the world. We have high hopes for Jayvyn. Most of all, we believe that he will be a star and a true inspiration to everyone that he touches throughout his life.