ESL Showcase
On Wednesday and Thursday, September 25 and 26, students in the ESL (English as a Second Language) program at Lakota West gave presentations about their home countries.  These students prepared Virtual Reality slideshows and powerpoints. Some were in the form of memoirs, others were overviews of their cultures. Students showcased a place that was significant to them. According to Miranda Harris, one of the ESL teachers, the purpose of these presentations was two-fold.  "We wanted teachers to get to know their students better," and since this week is Homecoming, the presentations also allowed the ESL students to reflect on their own homes. Presentations were given on countries like Ecuador, Guatemala, Egypt, Colombia, Mexico and the Democratic Republic of the Congo.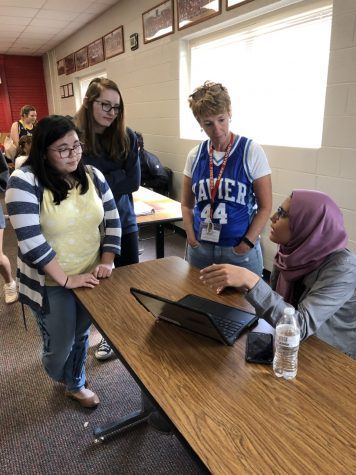 Youssef, a junior, gave a presentation about life in Egypt. Youssef talked about Stanley Bridge in Alexandria, a picturesque bridge next to the Mediterranean Sea that he would go to with his friends. Youssef also talked about going to Salah Eldin Elayobie Citadel, an important religious and historical site that was built in the 12th century. Brittany Perez, from Educador, said that she was very nervous about giving her presentation.  She thought that "people would think [her] story wasn't real." But other students found it exciting. Nehemi Mawele, from the Democratic Republic of the Congo, said he liked "the face time to speak with people very well in English" and wished that more people had come to see it.
The cultural presentations were a unique opportunity to see the perspective of those from other countries, and they also highlighted diversity in our school.