Movie Review: Murder Mystery 2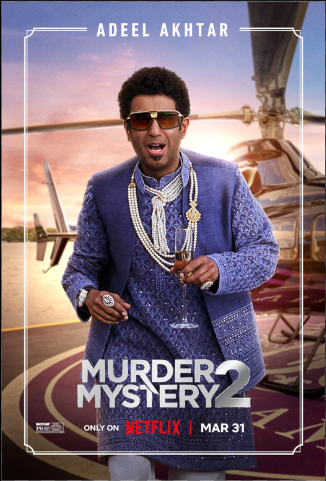 The long-awaited sequel of Murder Mystery has finally arrived, and here's how it went.
This movie was all over the place. It started off with the now full-time detectives, Nick and Audrey Spitz, struggling to keep their business afloat as a private eye agency. They are having money problems while dealing with the stress of marriage and business when an old friend calls. 
The Maharajah (Vikram "Vik" Govindan) is getting married on a private island, and he wants them to attend his wedding (they were in the first movie together). The island was luxurious and the Spitzs' house was beautiful. The plot goes sideways when the Maharajah is kidnapped. The group narrowed it down to the only people who knew that the elephant that brought out the Maharajah would be a part of the ceremony, so they only had around 7 suspects. Viks wife hired a professional P.I. detective to figure out the situation, and he ended up being the kidnapper. I didn't like this at all, because we couldn't guess someone in the original suspect group. Furthermore,  at the end, there was another twist. The evil and jealous sister of the Maharajah ended up helping the kidnapper.
Riley Lang, a sophomore at Lakota West, commented on their thoughts of the sequel. "It was a good movie but it wasn't anything compared to the first movie. It was very predictable and they added in so many unnecessary plot twists and it felt super rushed. They didn't lay out a lot of time to explain everything, it was all just too set up."
Overall, this move was a lot, and had many unanswered questions. I liked the first movie much better, and so did the fans of the original, considering the sequel received a much worse rotten tomatoes review.