Balloons, Glitter, Crickets, and Mock Weddings: What will the 2023 Lakota West Senior Prank Be?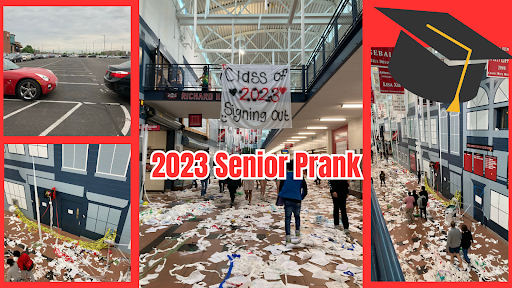 Senior pranks are an unofficial tradition at most high schools, along with senior skip day, and they demonstrate a rite of passage for the senior class. They are mostly common in the U.S. and Australia and show school pride. Senior pranks are a mark of school spirit and are meant to leave a fun and unique memory for the school and the staff. 
However, things can go wrong and sometimes students can even get into legal trouble because of pranks. As this is becoming more commonplace, the amount of pranking allowed has been reigned in.
Out of all the ideas circling around for the prank, the best was arguably to hold a mock wedding, with boys in dresses and girls in suits. Although it would have been a massive laugh and definitely a memorable event, Mr. Brown quickly shot the idea down because of dress code restrictions.
Nonetheless, things this year still started off with a bang. The seniors surrounded the front parking lot with a barrier of parked cars, leaving a massive empty space in the middle. Then, following last year's tradition, Main Street was trashed with streamers, toilet paper, balloons, signs, ditched homework, and more. For a twist, crickets and tarantulas allegedly joined the masses on Main Street.
Areas and cars were saran-wrapped, walls were peppered with sticky notes, and Main Street was a colossal mess. A sign saying "Class of 2023 Signing Out" was hung from the balcony, decorated with hearts. While it wasn't as memorable as some ideas were going to be, it was obvious the seniors still had a fun last day at LWHS.