Putting the Crunchy back in Pakora – a Guide to Ramadan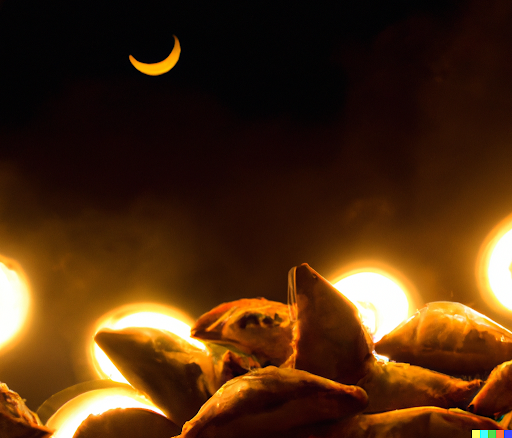 If you haven't already heard one of your Muslim friends' stomach growling in class, you may not know that it's the spiritual month of Ramadan. 
Since Ramadan follows the lunar calendar, the first day of fasting is announced when the crescent moon is seen emerging in the sky. The primary spiritual practice in Ramadan involves abstaining from food and drink from sunrise until sunset. Aside from fasting, there is a lot of extra ibadah (worship) in the month of Ramadan. 
Muslims believe that by weakening our physical body in the act of fasting, we are strengthening our spiritual body. For example, Islam prescribes five daily prayers that can sometimes be hard to wake up in the morning for, or stay awake at night for. But in Ramadan, Muslims are awake early in the morning to eat suhoor (the meal eaten before the fast) and awake late at night for iftar (the meal eaten to break the fast) and taraweeh (congregation prayers that are reserved for Ramadan). Prayers become unavoidable in Ramadan, making the month a special time for reflection and developing better prayer habits. 
Another characteristic of Ramadan is the special foods of all different cultures eaten to break the fast. In Bengali culture, Pakora (fried lentil batter), boot (black chickpeas), and beguni (battered and fried eggplant) are foods only eaten in Ramadan. Some foods are commonplace in a lot of different cultures like, rice dishes, fried meat pastries, mango juice, and every variety of tea you could think of. 
Talking about different Ramadan dishes is another way of appreciating the different cultures within Islam. Especially in the evening when the hunger starts kicking in, it's a lot of fun to marvel over what others are going to have for iftar.