Teacher Feature: Senora Becker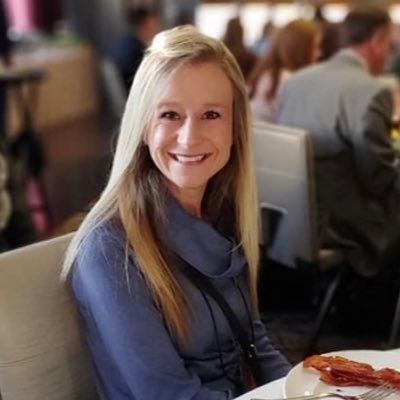 Sra. Becker is in her eighth year of teaching. She has taught Spanish I, Spanish II, Spanish for Spanish speakers, and ESL. She really enjoyed teaching Spanish for Spanish speakers. A fun fact about her is that her daughter is in a vet science program and has a pet snake that she is not afraid of. 
I spoke directly with Sra. Becker about her career and some things that she likes to do in her free time. Here is what she had to say: 
Q: What is your favorite class memory?
A: My favorite memories over the years have been building relationships with students and making each other laugh. I once had a student make me laugh so hard that I cried. It was one of my best days because we just had such a good time together.
Q: What is your favorite out-of-class memory?
A: Every year I would go on a beach trip with all of my cousins along the east coast and we called it "Beach with the Cousins." We still are doing that as a family tradition and we are in our forty-fourth year.
Q: What is your least and most favorite unit to teach?
A: Well we're definitely on one of the more challenging ones right now. Learning the preterite and just trying to remember all of the different irregular preterites and all the verb conjugations is really hard for students. It's not that I dislike this unit, it just takes a little bit more time and practice. I really like teaching the food unit. It's a lot of fun to bring in things that students care about and have fun with.
Q: Why did you choose to teach Spanish?
A: I've always wanted to teach Spanish. I started learning Spanish when I was a freshman in high school. It was always an enjoyable process – learning the language – and I got to meet new people. I've always wanted to be a teacher and at first, I was going to teach elementary children, but I'm really happy that I landed with high school because I get to be with you guys through the end of your high school career and trying to figure out what you are going to do with your real life after high school so that's a lot of fun.
Q: What is your favorite Spanish movie/story?
A: I have really enjoyed watching Encanto with students since it came out, but my favorite Spanish movie of all time is Evita. My teacher taught us the story and music in high school and I have loved it ever since. I've seen the play live 2 times and love the 1996 Madonna remake.
Q: If you could learn any other language other than Spanish what would you learn?
A: I would like to learn French. I think that it would be very useful to know. I would also learn Italian because my family has an Italian heritage. 
Q: How do you feel about the other Spanish teachers here at West?
A: I love all the other Spanish teachers. We share resources and we talk to each other about different plans. We try to keep things fun and exciting for students so that they want to be in our classes. All of the language teachers have a really great relationship because we've bonded over the years. We have been through really hard times together and also good times together. We celebrate everything with each other and sometimes your work friends become your best friends.
Q: What are your future goals?
A: I completed my master's degree a couple years ago, which was a major goal, and so I wanna keep teaching a while longer. My daughter is also in school to become a Spanish teacher so I dream someday of teaching with her in the same school. I don't know if that will ever happen but that would be like a mom's dream come true. If that doesn't happen, I want to look at opportunities to write curricula and develop resources for teachers.
Q: What do you do in your free time? Any hobbies?
A: I really enjoy writing. I have written a children's book as well as enjoy writing articles for teacher publications. Along with that I also enjoy baking and decorating cakes.
Q: Did you do any sports/clubs while in high school or college?
A: I was in the Spanish club. In high school, I played soccer and did cheerleading. In college, I played on the intramural soccer team.
Q: Do you think languages should be taught earlier than just in high school?
A: I think that there are clearly benefits of starting at a younger age. I wish more schools would have programs where they could start teaching Spanish in elementary school because your brain is still developing. We're starting so late with high school that it's sometimes hard to acquire a new language. I also encourage students to keep learning it because even as an adult you can pick up a new language if you really work at it.
Q: Do you have any advice for people who want to go into a career similar to yours?
A: Well going into a career similar to mine or going into teaching, specifically teaching Spanish is really one of the most fun jobs I could ever imagine. So if you wanna have fun then you should be a Spanish teacher. In terms of learning the language, any career out there can really benefit from knowing Spanish and then provide you with more earnings opportunities, you can make more money, and you can have more travel opportunities. Even if you don't want to be a teacher, then it's still going to benefit you to learn Spanish. I would also advise anyone wanting to be a Spanish teacher to travel now before life gets too busy.