The Return of Exams to Lakota West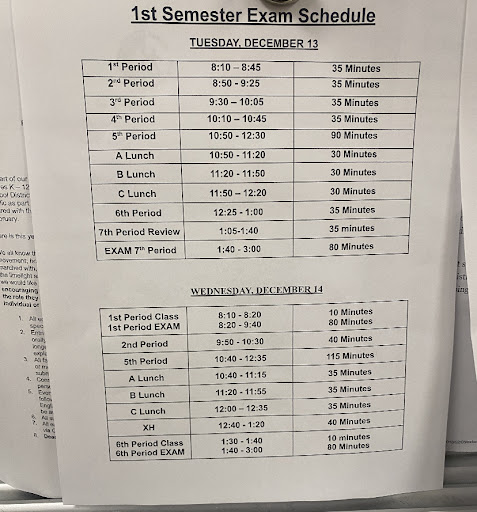 After two long years without semester exams they have finally come back. Semester exams were initially halted after the start of the pandemic, but after some time, administrators believed it was the right time. Current seniors have a bit of experience with exams but freshman, sophomores, and juniors are about to have a taste of exams. 
Just like in the past exams are taking place the last week before Holiday break. Exam week is usually hectic and exams being reintroduced to staff and students can't help but stress. Ms. Sherman, a math teacher at the main campus said "I felt like it was going to be a very significant shift for a lot of  students because a lot of students hadn't had that experience in several years." There are some students who have never had to study for such a big test, worrying both students and teachers. Ms. Sherman also made sure to note that this significant change is an important one. Bringing back exams demonstrates how the district was able to move on even after the pandemic changed original plans.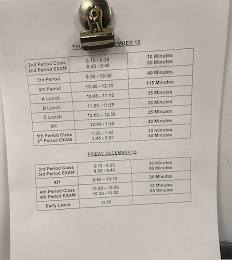 The first day of exams begins December 13th, with the 7th period exam at the end of the day and a 10 minute review beforehand. The next day includes the 1st period exam first thing in the morning then the 6th period exam at the end of the day. The third day also has two exams for 2nd & 5th period. And finally the last day includes early leave and 3rd & 4th period exams.
Chaos among students and staff erupted as the first semester exam schedule was released.  The amount of exams wasn't what caused an uproar, but it was the fact that students would have on-going classes on top of exams. Class periods have irregular times making the schedule confusing. Having to prepare for exams while keeping up with school work is already a struggle. Everyone is eager to go on break leaving a sliver of motivation left. Semester exams will continue in the spring, for sophomores and juniors this will mean another round of exams. Luckily, this will be the seniors last semester exam.