Hand Drying at Lakota West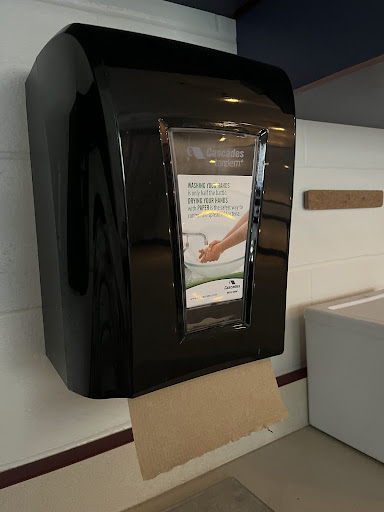 A paper towel is "a sheet of soft and thick paper that can soak up liquid and that is used for drying your hands, cleaning up spills, etc." as defined by the Britannica Dictionary. The paper towels at Lakota West High School are the exact opposite.
  Not only are they nonabsorbent, but they often make the mess worse. In some of the the classrooms here at West, paper towels are useless, but where quality paper towels are really needed is the school bathrooms. The only choice after washing your hands in the restroom is hand dryers. Air dryers carry bacteria and spread diseases easily after use. One study showed that "High-speed air dryers may actually leave more contamination on your hands than paper towels do…they may spread germs onto your clothes, leading to more of them being transferred to other surfaces" (Schimelpfening). Although they may be more environmentally friendly, the lack of hygiene and chance of sickness could be hazardous to students. One West sophomore, Jordan Otabill, refuses to use the school hand dryer because they are "gross and the air that comes out of them is definitely contaminated." It's possible that numerous students could be feeling this way and need the simple resource of a paper towel. Many schools have these low quality paper towels, but hopefully in the near future Lakota West can have some that actually do their job.