Cafeteria Chaos: The lack of organization in the Lakota West Lunchroom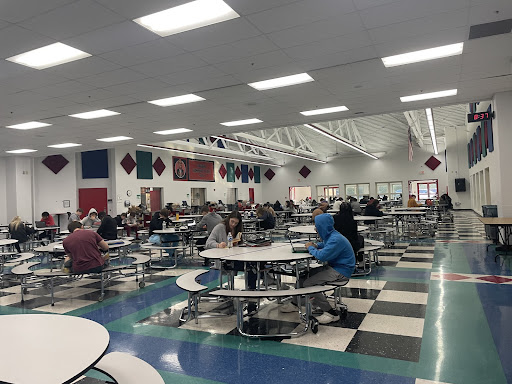 The Lakota West lunchroom is cluttered and unorganized. People are leaving because they don't have places to sit. Friends are separated and people are unhappy. There are separate rooms for different grades and groups of people, including the ANX-B and the senior section. The ANX-B is supposed to be a section where people can sit if they like a quieter, smaller lunchroom. At times, the ANX will just be crowded and an outlet for students to leave. The senior section seems like a good way for upperclassmen to enjoy their lunch with only their grade. But, juniors and sophomores continue to sit in the senior lot, leaving  seniors having to sit away from their friends on the outside.
The line for food is long and unbearing as it almost reaches main street, People are also waiting over 15 minutes just to get their lunch. 15-year-old Aj Satterfield, a sophomore at West, says she "would wait in line for over 7 minutes, and would only have a couple minutes to eat [her] lunch." Satterfield notes she will often be weaving through tables and people just to find a place to sit. Once you finally get out of line, you must attempt to get through the huge crowd of people to get your food. After paying you can finally go sit down. But, as soon as you get to your table it's full. So now, you have no place to sit and only a couple minutes left to finish your food. This system isn't working and the lunchroom needs a change.
For one, the circle tables are smaller and give less social opportunities to students. If we had long rectangular tables more people would be able to sit together and more friendships would be made. We could take the rectangular tables from the anx and put them in the main room. Also, the lunch line could be reduced if we didn't have to wait at the entrance for so long. These small changes can make such a difference in the efficiency of the lunchroom.