A Look Behind the Curtains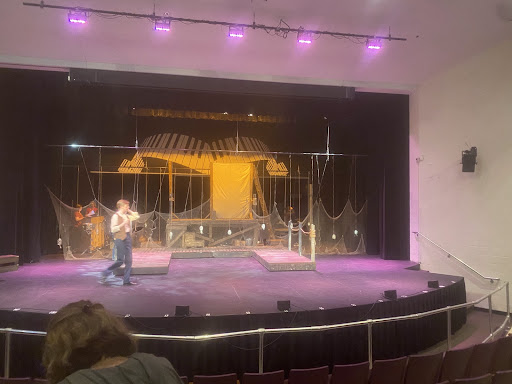 This month, the Lakota West Theatre Department put on the play, The Old Man and The Sea. The play was a spectacular production that took months of preparation. During a sit-in during rehearsal, I was able to get more insight into what happens behind the scenes. 
When talking to Mrs. Eldridge, director of the play, she explained the many aspects of producing a play. She says, "I start by looking at different plays a year ago, and by the spring I have narrowed it down to a few ". After selecting a play, she then does her research on how much it's going to costumes, sets, and other necessities like her staff that are part of a doing play. The sets, props, and costumes were built mostly by students in the Theatre Arts class as well as Mrs. Eldrige's husband.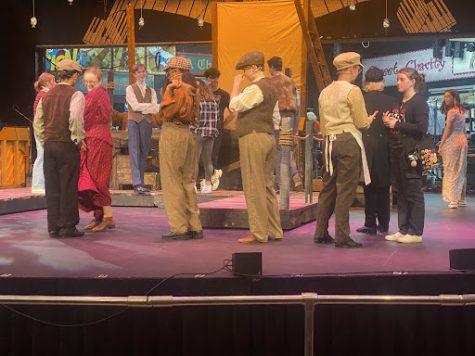 Auditions for roles started as soon as the play was read at the beginning of the school year. Once the cast was selected they had rehearsals every Monday, Wednesday, and Thursday for three hours. In these rehearsals, they would go through scene by scene until they had the full play, the final rehearsals were full run-throughs where I spoke with some of the actors and crew members. 
Taylor Small, who plays Mathson, believes "that memorizing the lines was the hardest part of the play". Taylor's lines consisted of many soliloquies or monologues where she is talking for a very long time.
 For people who weren't part of the cast, but in the crew had other challenges to deal with. Eesha Saggi, who is in charge of the sound effects for the show. The most difficult part for her is a specific volcano explosion, "[I] have to play seven sounds while everybody is singing and turn them all off at different times.", says Eesha. In addition to sound effects, the tech crew is also in charge of the lights and the actor's microphones. The house crew is another aspect of the play that I was able to speak with. The House crew are the people in charge behind the curtain. Eva Donathan, who is in her first year of house crew, is one of the stage managers. "You really need to have a good understanding of everything that happens in the show [to be a manager]", says Eva. She explains that as a backstage manager she has to cue the actors when to go on stage, get props ready for upcoming scenes, and shine the flashlight for the shadow puppets that occur throughout the show.
A lot of planning and hard work goes into making a play, and the Lakota West Theatre does a great job of making it look effortless. Between Acting II and the Theatre Arts class, they were able to pull off a great production of The Old Man and the Sea. I know many West students are looking forward to seeing what they do next.