2022 Prom King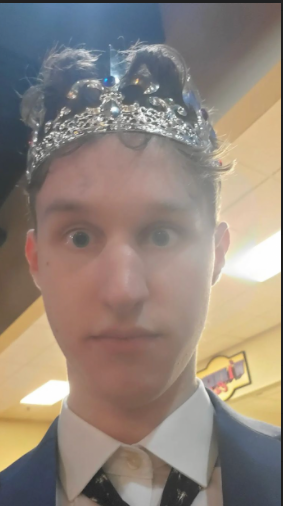 Philip Lukovic is this year's Prom King after several students urged the student body to vote for him.
It's been hammered into the heads of kids that the only way to be crowned Prom King is to be popular and athletic. Almost every Disney Channel movie that has a prom scene grants the popular jock the title of Prom King, for no reason other than their social status within the school. This year, Lakota West students were determined to not let that happen.
Seniors urged students to vote for Philip Lukovic, someone who isn't involved with school athletics or the band. They promoted him with posters around the school, dollar bills with his face on them, and on social media. The effort proved to be enough when Philip was crowned Prom King alongside Prom Queen, Kylie Dilley. The two shared a memorable dance and did the worm to hype up the crowd. Hopefully, this movement will inspire future prom attendees to vote for someone no one would ever expect to be on the prom court.