Theatre Review: Chicago, High School Edition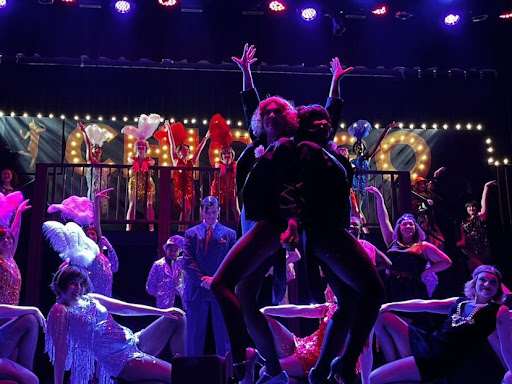 Lakota West Theatre took the stage once again with their rendition of Chicago. Chicago critiques the city of Chicago's fascination with sensational murders around 1912.  The musical follows Roxie Hart (Morgan Halstead) who commits second-degree murder, and the sensational cabaret singer Velma Kelly (Taylor Small), who kills her cheating husband and sister. Chicago's infamous attorney, Billy Flynn (Andy Curi), is lined up to defend both women, leading Roxie into a media frenzy and providing her with the fame she's always wanted. In contrast, Velma's loss of fame challenges her to try and outshine the new star criminal. 
The talent of these young performers never fails to amaze me. The vocal talent of the Lakota West Theatre is astounding by itself. Trinity Fears, who played Matron "Mama" Morton, absolutely blew me away singing "When You're Good to Mama." Every high note was hit perfectly and she looked stunning while doing it. As for Taylor and Morgan, no one expected anything less of these talented performers. Every time their foot hit that stage, I knew the talent was going to be bursting through the speakers. 
The production quality far exceeded my expectations. The Chicago sign with the lights was stunning, and the stage from last year's musical was perfectly adapted for this year. The secret door and the jail cells were nicely constructed for a high school musical. Keeping in mind to stay school appropriate, the costumes were very well executed. They were sexy but not revealing.  I loved Velma and Roxie's ending outfits. Overall, the production crew did an amazing job of bringing this show to life. 
We have seen so much talent from Morgan Halstead throughout her four years in the theatre program. After she graduates, she is going to Florida for college to major in Marine Biology, but she plans on doing theatre outside of school. When I asked her if she was happy that Chicago was her final musical she said, "When I first found out it was Chicago I was so mad because I wanted to do Little Mermaid because it was more happy and fun but once I got into it, it was fun". All in all, she was satisfied with her final high school musical experience.
After the show, I heard many parents claim this show was the best one they've seen. However, I am sad for those who were not able to see this incredible show. You truly missed out. It was a great year for the Lakota West Theatre, and I can not wait to see what they have in store for next season.