Sadies Hawkins Dance Officially On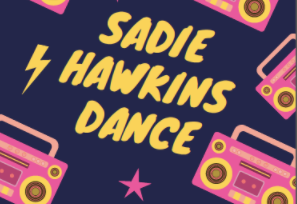 National Honor Society's annual Sadie Hawkins Dance is set to blast off on March 26th. The outer space-themed dance will be held in Lakota West's gym from 8-11 PM. The dance will help raise money for the organization, A Child's Hope International.  
Although today students typically go to the dance with a group of friends or the person they are in a relationship with, Sadie Hawkins traditionally was a dance where a girl asks a boy to the dance. This concept originated from a comic strip, "Li'l Abner," where there was a designated day where unwedded women could chase potential bachelor's and if they caught one, the man had to marry the woman. Inspired, high schools around the country began having Sadie Hawkins Day dances, where only females could ask males to be their date. Sadie Hawkins has become a more laid back, staple dance at Lakota West, but has not religiously carried on the dance's traditional inviting procedures. 
This year, originally, Sadies was canceled due to conflicts with the pre-approved DJ and scheduling. Consequently, students and parents flocked to social media to protest the abrupt cancellation, especially since East had the dance in January. With individuals offering a multitude of solutions and NHS members figuring out alternative plans, Sadies was reinstated.
Sadies has always been a fun, lowkey dance for students and is benefits a good cause. When word of the dance's cancellation spread, widespread backlash ensued, as COVID has caused students to want to get as much of the high school experience as possible.  West's seniors have only been able to attend two Sadie Hawkins dances; the last was a week before the country was shut down due to Covid-19. Sophomores have only had the opportunity to attend one dance during their time as Lakota students, as they didn't even get an eighth grade formal. 
Thankfully, Sadie Hawkins is on, and students will be able to look forward to the intergalactic dance and a great time!