Juggling with David Cain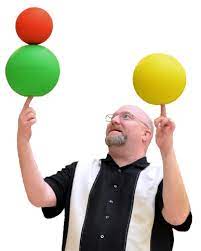 Juggling with David Cain
A couple of weeks ago, students thought they were in for a typical class with a substitute teacher, David Cain, but to the surprise of many students, Cain started masterfully juggling objects in the classroom. Students began posting about his juggling act on social media and soon realized there was more to Cain than just a random guy juggling objects.
David Cain, known as the Juggler for Jesus, is a world champion juggler He started juggling at the age of 12 and now has over 20 Guinness world records. He also runs a Christian juggling ministry full-time that uses juggling, comedy, and audience participation to share God's Word and gospel in a creative and memorable way. Cain started substituting in 2021 at Edgewood Intermediate School and also appeared at Lakota West this year. 
It's very cool that we had someone sort of "famous" come into Lakota West, and just as surprising that it was a substitute teacher. David Caine gave students a free classroom juggling act at Lakota West, as well as a lasting high school memory.