Travis Scott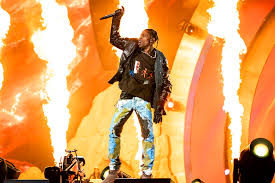 On November 5, 2021, Travis Scott performed at the annual Astroworld Festival in Houston, Texas.  The Recent Astroworld Festival brought tragedy and heartbreak.  The violence of the crowd led to 10 deaths, including that of a nine-year-old boy.  Many videos of the concert have surfaced on the internet, showing the crowd pushing and crushing people.
  Spectators claim they felt like they couldn't breathe and felt like their chests were being crushed. 
But who is to blame for this catastrophe? Travis Scott? Live Nation? ScoreMore? The Security Contractors?  Well, there have been nearly 80 civil lawsuits filed in Harris County District Court- and all have been named, in some capacity, as Defendant. 
Travis Scott is the founder and face of Astroworld.  He also has a history of encouraging the behavior of the crowd that could cause public endangerment.  Scott was even arrested at one of his own concerts for "disorderly conduct" and "inciting a riot."  However, proving that Scott was truly aware of the aggressiveness of the crowd can be difficult and can decrease the probability of proving his liability.
As for Live Nation and ScoreMore, the promoters of the festival, their jobs include such roles as staffing, planning, putting up the money, and finding vendors.  Both companies have been sued numerous times in the past for other concerts and festivals gone awry.  However, evidence of neglect in these areas will be the deciding factor of if these companies will be held liable.  However, a first-hand witness, Darius Williams, claims the festival was completely understaffed and under-trained.  Williams was hired by the security contractors, Contemporary Services Corporation; the security contractors face charges of negligence. Williams told TMZ that the training was brief and the instructor gave them the answers in an attempt to speed up the process.   Both Live Nation and ScoreMore were responsible for finding vendors such as the security contractors, so they also could face a great deal of liability for the understaffing problem.
Some people might not blame any of these people for the horrors at that concert.  Some think it was a satanic conspiracy or sacrifice ritual.  However, none of these claims can actually be proven to be true.  Shocking events like this one open a door for others to insert their own agendas and conspiracy theories.  These conspiracy theories distract from the genuine issue of what mistakes were made at Astroworld and might even be seen as disrespectful to families who have lost someone.
The brutality at Travis Scott's concert has left so many people in shock.  Will it affect future music festivals? Will Astroworld return next year?