(Taylor's Version) : Why Taylor Swift is Re-releasing Her Music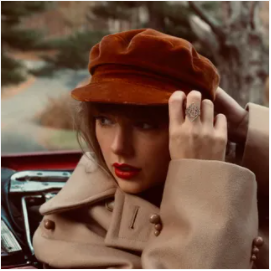 On November 12, singer-songwriter Taylor Swift re-released her 4th studio album, Red. This is the second album she has re-released in the past year; the previous album was Fearless. Adding the parenthetical tag, Taylor's Version, Swift is signaling to the listener that she owns the rights to the album. With fans buzzing about the re-recordings and added vault tracks, the general public may be wondering why exactly she is recording her albums over again, especially since her albums were released within the past 15 years. 
In 2005, at the age of 14, Taylor Swift signed a record deal with Big Machine Records, based in Nashville, Tennessee. Many contracts require artists to allow their labels to own their master recordings. When Swift's contract ended in 2018, she switched labels and made sure that she would have ownership over the music she was creating. She also attempted to buy the rights to her music, which would allow her to profit when people stream or buy her songs. This effort was halted when her label sold her music to a group owned by one of her music industry enemies, Scooter Braun. Braun, the manager for artists such as Justin Bieber, Ariana Grande, and Kanye West, is someone who has caused turmoil in Swift's music career. Even though she was going to purchase her music for millions, Braun and her previous label sold the rights to a company called Shamrock Holdings. 
In the midst of the situation, Taylor Swift decided she would re-record the albums she created under Big Machine Records, expressing that artists should own their music. These albums included her self-titled debut album, Taylor Swift, Grammy-winning Fearless, solo-written Speak Now, Grammy-nominated Red, and Grammy-winning 1989. So far, Swift has released two of these albums, most recently Red. Not only do the albums feature a cleaner, more mature sound than that of her older albums, but they also include what she calls "from the vault" tracks. Fearless (Taylor's Version) features six vault racks and Red features nine. The vault tracks include features from singers such as Keith Urban, Maren Morris, Chris Stapleton, Ed Sheeran, and Phoebe Bridgers. Red (Taylor's Version) included more changes to the original tracks in comparison to Fearless. Listeners can hear 1989, pop-inspired tracks woven through many of the tracks. A fan-favorite track that was highly anticipated is the ten-minute version of Swift's song "All Too Well", which is accompanied by a short film featuring Stranger Things star, Sadie Sink, playing Taylor Swift,  and Dylan O'Brien, playing Swift's ex-boyfriend, Jake Gyllenhall. 
What is so fascinating about the re-releases is that many artists speak out about contractual agreements with their labels, but no one goes through the hassle of actually re-recording songs. Swift's following is a powerful force, as they have unadded songs not owned by Swift and replaced them with her versions of the songs, ensuring that she is earning the profit on her songs. Fans also search for "easter eggs" to figure out what album will be released next by attempting to find cryptic messages in social media posts and music videos releases. Her fans have allowed songs released in 2012 to top music charts, including her ten-minute version of "All Too Well." Taylor Swift's massive following and anticipation for new and refurbished music has reaped great success for the singer in the past year.