Lakota West Presents: 39 Steps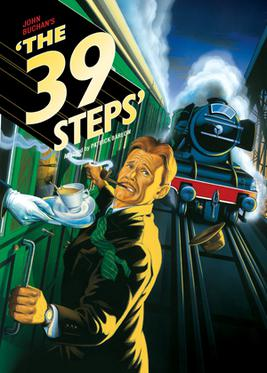 Richard Hanney, an everyday Canadian, takes a vacation to London. What he does not know is that the relaxing vacation he had planned will soon be turned upside down when he is suddenly faced with a murder charge, a police chase, and a mysterious spy organization. 
39 Steps, an action-packed drama, will be performed this October in the Lakota West Theatre. Originally, 39 Steps was a book written by John Buchan. Later, Alfred Hitchcock turned it into a film,  which won many awards, including two Oscars. Lakota West theatre will now present the play version of 39 Steps which was adapted by Patrick Barlow.
Mrs. Eldridge, Director of the Lakota West Theatre, said that she picked 39 Steps as this year's fall play because " It has been one of [her] favorite plays since [she] saw it professionally."  She also believed that this year's theatre students will be able to bring comedy into the play as well. 
39 Steps will be performed on October 28th from 7:30pm-10:00pm, October 30th from 7:30pm-10:00pm, and October 31st from 2:00pm-5:00pm. The ticket prices are $12 for presale tickets and $15 when bought at the door.  It will be held at the theatre in Lakota West Highschool. 
Filled with action, excitement, and a splash of comedy, 39 Steps is a must-see play!