Influential LGBTQ+ Celebrities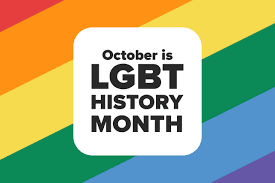 October is National LGBT History Month. It is a month-long observation of the history of gay rights, and it coincides with National Coming Out Day on October 11. In celebration of this month, let's take a look at a few influential LGBT celebrities and their personal history with their sexuality.  
A celebrity who recently came out was Jojo Siwa, a Nickelodeon child star. She posted a Tiktok to the song "Born This Way" by Lady Gaga and many started speculating. She then formally announced later that she was a part of the LGBTQ+ community. She is not officially labeled. When asked the question, she states that she has known all her life that she just likes people in general, not just boys or girls.  "I never had fallen in love before, but I always believed my person was going to be my person. If that person happened to be a boy, then great. If that person happened to be a girl, great." Shortly after she came out, Siwa announced that she has a girlfriend. She, also, recently became the first Dancing With The Stars contestant to have a same-sex partner. Many fans can see how much happier Jojo is after she came out. Jojo Siwa is one of the most influential young role models. She continues to help LGBT youth feel comfortable with who they are and who they love. 
Late last year Umbrella Academy star, Elliot Page, formally known as Ellen Page, came out as transgender and nonbinary. Page uses both he/him and they/them pronouns. They addressed their social media followers with a post explaining how grateful they are for the community and the support. Even before their transition, Page has always been one of the most visibly out actors in Hollywood. Elliot Page has portrayed many fantastic characters on-screen, and has been an outspoken advocate for all LGBTQ people. They are now an inspiration to countless trans and non-binary people. He became the first transgender man on the cover of Time magazine in March 2021. Page says that their transition was met with both massive support and hatred, which is exactly what they expected. 
As a bisexual myself, I have learned to grow and accept myself because of these celebrities who put themselves out there. They create a comfortable environment where many LGBT teens feel safe. There is a lot of hate in the world because many people refuse to accept change. However, finding these role models who share the same interests and experiences as me is very beneficial. Coming out is a very scary process that weighs on many teens' hearts. With the help of these supportive figures, coming out has become more achievable. As October continues, remember to educate yourself on LGBT history and be supportive of others no matter who they love.
Sources:
https://www.cnn.com/2021/01/23/us/jojo-siwa-coming-out-trnd/index.html
https://variety.com/2020/film/news/elliot-page-transgender-ellen-page-juno-umbrella-academy-1234843023/