Turning a New Tide: 2021-2022 Red Sea Leaders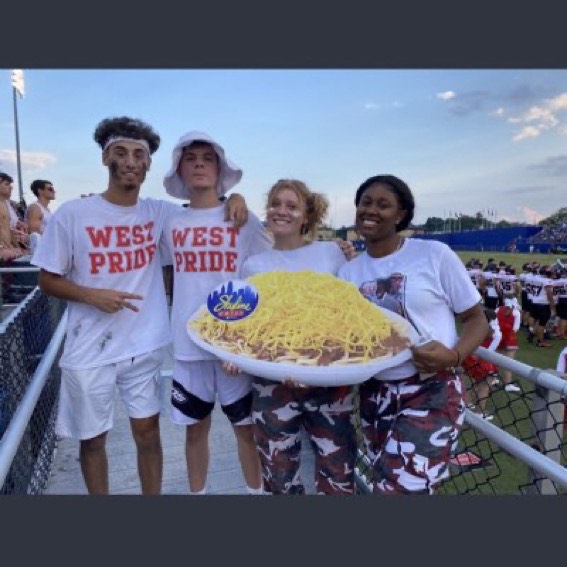 The student body is the heartbeat of Lakota West. And their participation at Firebird football games is no exception.  Hence The Red Sea: The loud din of yells, the taunting chants, and the exhilarating celebrations during moments of victory at sporting events– all are a testament to the impressive school spirit imbued in the students of Lakota West. Standing atop the crest of the Red Sea stands our school's Red Sea Leaders. After the prohibition of spectators at last year's football games, students are more eager than ever to attend. With that anticipation comes high expectations for our Red Sea leaders.
Damia Griffin
The first of the five, Damia Griffin, was excited to be elected.  Being a Red Sea leader has been at the top of her high-school bucket list since she was a freshman. When asked why she was elected her response was short and sweet: "Because I'm Damia. I'm the life of the party. I like to have fun." Damia, along with her fellow Red Sea Leaders, hope to have a fun and exciting year of cheering and chanting and have some "top secret" ideas planned. 
Brandon Vera
As a sophomore, Brandon was intrigued by his senior friend, Grayson, who was a Red Sea leader in 2019. Brandon expects that he and his fellow leaders will be able to lead the Red Sea as well as it has been in past years, despite the drawbacks of not being able to use last year's leaders as examples. Brandon believes that his loud and outgoing personality is what got him elected because he's what the Red Sea needs.
Trey Fetzer
Trey Fetzer, the wildcard, has thus far been seen as the frontman for the Red Sea leaders. To Trey, being a Red Sea leader is more than a fun gig: "It was just an honor by the school — you gotta just show the love; I just wanna get everyone hyped up. Get everyone ready." Trey hopes to spice the Red Sea up a tad but also to stick with what works. He thinks that this year he'll be able to do a lot since "the people like [his] energy" and "[he] brings a lot to the table." When asked about the legacy of the 2021 Red Sea, passerby Sohom Dey said it best; "I just want to be known as the loudest group out there, the best group out there, I want them to know us as the #***ing crowd that kills. We go out there and we show out every Friday night." Now that's the kind of energy the Red Sea needs.
Anthony Phelan
Anthony was honored to be a part of the Red Sea, saying "it's cool to be voted on by your peers," but it took him off guard.  "It [being voted Red Sea Leader] just kind of happened." He said this year's Leaders are going to be sticking to what works. "We've kinda seen how the other grades have done it, and we like the way it's going." Anthony said a strong Red Sea Leader needs to be confident, loud, and "cool with everyone; like if people don't like you and you're mean to them, they're not going to want to listen to you." When asked about the restrictions administration put on the Red Sea, Anthony had a very diplomatic answer; "At the end of the day, I understand there's certain stuff they can't allow us to do, but there are some things that aren't really bad that we can't do, like the megaphone, or the baby powder. I feel like that was pretty harmless, but they kinda jumped in on it. We don't like it, but I understand." An unfortunate reality for the Red Sea.
Riley Troth
Riley was "surprised and excited" to become a Red Sea Leader, saying she "didn't even try to become a Red Sea Leader." She was looking forward to having football games again, because of the lack of fans at football games last year. She said "we have some ideas, but we keep them under wraps," so look forward to some surprises coming up! 
Thank you to all the Red Sea Leaders for taking the time to answer our questions. Go Firebirds!