Show Review: Outer Banks 2, The Adventure You're Looking For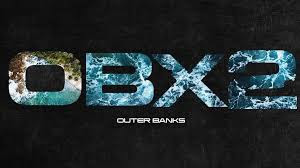 As summer comes to an end, a beloved show makes its return. Outer Banks first premiered in April of 2020 on Netflix, and it became a huge success within days. The plot centers around a group of teenagers who are on a treasure hunt on the Outer Banks island off the coast of North Carolina. The show focuses on five teens: John B (Chase Stokes), Sarah Cameron (Madelyn Cline), Kiara (Madison Bailey), Pope (Johnathan Daviss), and JJ (Rudy Pankow). The first season ended with these teens finding gold, but ultimately losing it and being framed for the murder of a police officer. This allegation led John B and Sarah to try to escape on a boat, where they got lost in a hurricane and were presumed dead.  
The second season picks up, after John B and Sarah survive the storm, on a boat in the Bahamas with Captain Terrance (Terrence Rosemore) and Cleo (Carlacia Grant,) who try to turn them in for being wanted. The two get away by offering the captain the one piece of gold they got away with. They get off the boat and get in a lot more trouble with many complications before finally making it back to the Outer Banks.  
While John B and Sarah are running around the Bahamas, their friends at home are grieving their "death". They open up a new treasure hunt courtesy of Ms. Limbrey (Elizabeth Mitchell), who clashed with Sarah's dad, Ward Cameron (Charles Esten). On this journey, Pope learns about his connection to the town. When they meet up with John B and Sarah, the treasure hunt escalates. Things get out of hand when Rafe Cameron ( Drew Starkey), Sarah's psychotic brother, gets involved. John B and Sarah make hard choices; Pope and Kiera have to figure out how to maintain their friendship; and JJ must get more comfortable with who he is. The season ends with a huge fight escalating into an event that sets up for an interesting next season.  
One of the best things about Outer Banks are the cliffhangers after each episode. The writers keep you wanting more, and you can almost never guess what's going to happen next. In my opinion, it is one of the most binge-worthy shows on Netflix right now. I finished the second season in less than 3 days, and many more finished the same day the season premiered. The ending of each episode has a cliffhanger that gets more and more interesting and the final episode's ending is insane.  
Another amazing part of Outer Banks is the acting. The cast does an incredible job at portraying their characters. They've all individually grown into their characters very well and the story wouldn't be the same without these cast members. An underrated actor is Drew Starkey, who plays Rafe Cameron. Since he is the villain of the show, many overlook him, but the audience's hate for him shows how well he portrays his character. He accurately depicts a mentally deranged teen that is just trying to gain his father's respect. Many say he carried season two. 
Outer Banks is arguably on its way to become the next Stranger Things. I believe that the second season lives up to the hype that it was given. If you liked the first season, I highly recommend watching season two. If you haven't seen it at all, it may become your new favorite.